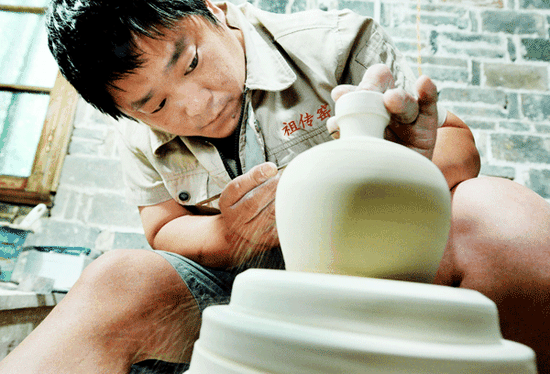 Peng Siyi, a Zuchuan kiln craftsman, repairs a porcelain embryo on July 1 in Poyang county, Jiangxi province. (Photo by Zhuo Zhongwei and Li Housheng/Asianewsphoto)
Feng Zuchuan, a national Chai kiln intangible cultural heritage inheritor who used to live in Jingdezhen, Jiangxi province, brought the skill to his hometown - Poyang county, Jiangxi Province.
"Chai" means wood in Chinese. Chai kiln, namely making ceramics by firing wood, plays an important role in the history of ceramics in China. Today, in the era of popularization of coal and gas kilns, the traditional technology of Chai kiln is facing a difficult situation, with no apparent successor.
Because of this, Feng Shanghui, son of Feng Zuchuan, shouldered the responsibility of rejuvenating the skill, building a Chai kiln in Poyang county and named it after his father — Zuchuan Kiln.