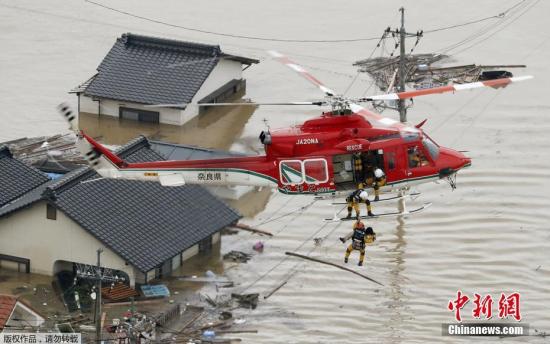 Helicopters are dispatched to rescue people trapped in water in Kurashiki, Okayama Prefecture, Japan, as heavy torrential rains wrecked havoc, July, 8, 2018. (Photo/Agencies)
The death toll from heavy torrential rains in western Japan has reached 100 with more than 50 people still missing. Extreme weather is also threatening Caribbean islands with tropical storm Beryl, though weakening, likely to bring heavy rainfall and gusty winds.
To reduce the disaster unleashed by incessant rains, the authorities in Japan ordered nearly 1.5 million people to leave their homes immediately and requested another three million to move to safer places. Western Japan has experienced heavy rain since Thursday.
Motoyama town, 600km from the capital Tokyo, recorded 583mm of rainfall from Friday to Saturday morning, the meteorological department reported. 
The Fire and Disaster Management Agency said that around 30,000 people had been shifted to evacuation centers as of Sunday afternoon. At one of the worst-hit areas, Okayama Prefecture, more than 1,000 people were seen trapped on the roofs of buildings submerged by floods.
The water gushed in the area with the bursting of three dikes on the nearby Oda River. Victims were later rescued by boats or airlifted by helicopters. In the Mabicho district, an area of 1,200 hectares, or one-third of the region, was submerged. About 4,600 homes were inundated.
More than 267,000 homes suffered water outages in 11 prefectures as of Sunday, Japan Times reported.
Rains have also halted operations at Mazda Motor and Daihatsu Motor facilities in Kyoto, Hiroshima, and Yamaguchi. These companies decided to stop services to ensure the safety of employees and also due to the disruption of the supply chain. 
"Rescues, saving lives and evacuations are a race against time. There are still many people whose safety has yet to be confirmed," Prime Minister Shinzo Abe said on Sunday during his meeting with disaster and relief officials.
Storm may hit Caribbean islands
Caribbean islands, some of which are still recovering from last year's powerful hurricanes, could face another one on Monday and Tuesday.
Tropical Storm Beryl or its remnants may bring heavy downpours and gusty winds to Puerto Rico and other Caribbean islands, National Hurricane Center (NHC) forecasters warned on Sunday.  
Major losses are ruled out as Beryl has already lost strength, but strong winds and heavy rainfall are predicted for the Leeward Islands, the Virgin Islands, Puerto Rico and Hispaniola through Tuesday.
"Tropical storm warnings and watches are in effect for portions of the Lesser Antilles, where Beryl is forecast to bring impacts from wind and rainfall to some of the islands beginning late today or tonight," the National Hurricane Center said in a statement.
Beryl may produce a storm that could result in total rain accumulations of 2 to 3 inches through Tuesday across the area, the NHC advisory said.
Puerto Rico governor Ricardo Rossello declared a state of emergency "as a preventive measure" due to the potential impacts from Beryl. The government has issued advisory requesting people to move to houses with sturdy roofs or shift to a government shelter. 
Last year, Hurricane Maria battered the country; more than 1,500 people are still living without power on the island.
Dominican Prime Minister Roosevelt Skerrit at a press briefing said the country is better prepared to deal with Beryl.  "Because of impact and effects of climate change, we cannot trust the weather system."
He urged citizens to store potable water as the government would shut down the water system as a precaution. NHC also announced another tropical storm, Chris, forming over the Atlantic coast. However, no warnings had been issued for Chris up until Sunday.