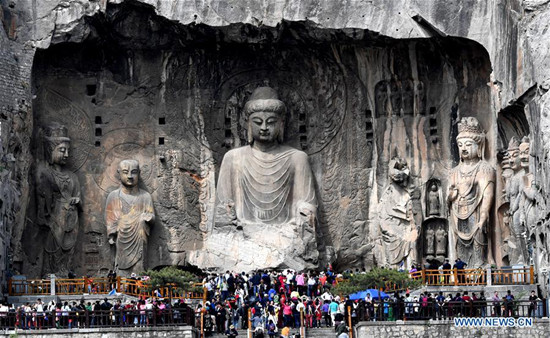 People visit the Longmen Grottoes in Luoyang, central China's Henan Province, April 11, 2018. The Longmen Grottoes has started to greet its boom season for tourism since April. (Xinhua/Zhu Xiang)
China's political advisors met Friday to discuss ways to better protect the country's towns and cities with significant historical or cultural importance.
The bi-weekly consultation session was chaired by Wang Yang, chairman of the 13th National Committee of the Chinese People's Political Consultative Conference (CPPCC).
Noting that such places are important for fostering cultural confidence and identity among the public, Wang called on the political advisors to make suggestions.
He stressed that protection should be responsible, prioritized and reasonable.
The relation between city renewal and development, and the protection of historial and cultural heritage should be balanced so that the protection work promotes development and development helps protection, Wang said.
A total of 15 political advisors and scholars made suggestions at the session.
They also pointed out that the protection is imbalanced and insufficient.
Some noted that protection requires long-term commitment and participation from the whole of society. Some suggested changes to the law.
They also stressed greater policy and financial support and better recruitment of staff.