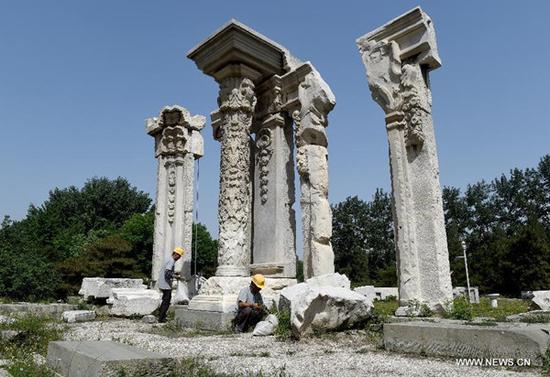 Staff members clean up weeds at ruins of Yuanying Guan (Immense Ocean Observatory) at Yuanmingyuan in Beijing, capital of China, May 23, 2018. The four-month reinforcement project of ruins of Immense Ocean Observatory at the historical site of Yuanmingyuan started lately.(Xinhua/Luo Xiaoguang)
The surviving remnants of columns and gates in Beijing's Yuanmingyuan - or Old Summer Palace - will be reinforced to prevent them from collapsing, Thursday's China Daily reported.
Foundations of the stone remnants in the ruins of Yuanying Guan (Immense Ocean Observatory) will be strengthened as part of the project, which will last until late September, the newspaper cited park sources as reporting.
Yuanying Guan, which covers 1,465 square meters, is a key site in the Xiyang Lou (Western Mansions) area of Yuanmingyuan. Its construction lasted from 1759 to 1783 during the reign of Emperor Qianlong in the Qing Dynasty (1644-1911).
"The bricks in the foundation of Yuanying Guan have disappeared, exposing the earth," Liu Xiaodong, director of planning department of the administrative office of Yuanmingyuan Ruins Park, was quoted as saying. "Thick vegetation is another threat."
Some foundations have collapsed. Liu said that if this situation continues, the stone columns themselves, no longer adequately supported, will be in danger.
The original foundation will be restored during the reinforcement, and a new drainage system will be designed for the site to minimize the impact of rain, but the principle of minimum intervention will be followed for all cultural relics, according to the newspaper.
Construction of Yuanmingyuan began in 1707 and continued for more than a century. Spectacularly beautiful at its peak, it is often referred to as "the garden of gardens", with its lush landscapes dotted with numerous temples, palaces and pavilions. Its 350-hectare area is about five times that of the Forbidden City in central Beijing.
Besides functioning as an imperial resort, it was also a place where four Qing emperors -- Qianlong, Jiaqing, Daoguang and Xianfeng -- often handled affairs of state until 1860, when it was wrecked and looted by invading Anglo-French expeditionary forces during the Second Opium War (1856-1860).