(ECNS) -- Overseas teenagers are impressed by the magnificent view and environmental protection efforts made in the Badaling Great Wall scenery spot on Wednesday, which is the final stop of their summer camp journey in Beijing.
The Badaling Great Wall is a destination that many of the group of overseas children, whose parents or ancestors are Chinese, had been eagerly anticipating. It is adorned with vibrant lights at night.
Climbing on, a Mongolian girl vividly shared with her friend the story of Meng Jiangnv weeping at the Great Wall, which she had learned in her Chinese language school, while Shijie Zhu from the United Kingdom said that she noticed it is very clean on the Great Wall, with no litter on the ground, showcasing excellent environmental conservation efforts.
"I am gonna become a true hero! The Great Wall is so majestic! It's fantastic!" exclaimed Diya Wang and Jiayi He from Pakistan. They held hands as they enthusiastically climbed the Great Wall recalling an old Chinese saying, "He who has never been to the Great Wall is not a true hero."
Their group leader explained that these two little girls were still complaining about being tired in the afternoon, but after arriving at the Great Wall, they forgot about their fatigue and became exceptionally excited, brimming with energy.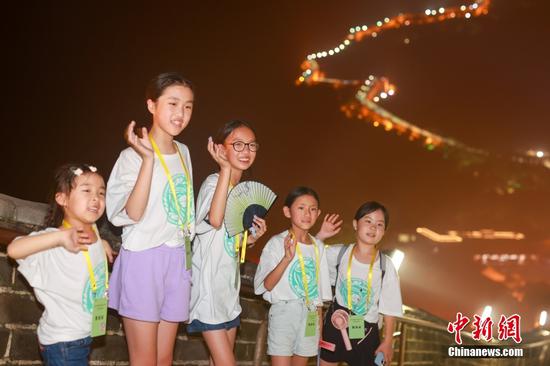 Overseas teenagers visit the Great Wall in Beijing, Aug. 9, 2023. (Photo: China News Network/Jia Tianyong)
"I previously came here in the morning, and I think at night the lights are more beautiful," said Cheuk Yan Wong from the Hong Kong Special Administrative Region. She mentioned that one of the most memorable aspects of this trip was making new friends from the Philippines. They exchanged contact information and hope to continue playing together after the summer camp ends.
The radiant tapestry of this diverse group proves that cultures know no bounds, and friendships hold no limits. Their collective voyage transcends physical borders, woven together by a shared passion for learning and appreciation of Chinese culture. Amid ancient landmarks and conversations, wisdom is exchanged and souls are enriched.
Jessica Kai Xuan Teo, a Malaysian of Chinese descent, is currently studying Chinese language education at Jinan University. Her aspiration is to become a Chinese language teacher in Malaysia after graduation, contributing to the promotion of Chinese culture.
"Now, many people in Malaysia are learning Chinese. I hope to share the traditional culture I've seen myself here with my students," she said.