(ECNS)-- Duanwu Festival is celebrated on the fifth day of the fifth lunar month each year in China.
The widely circulated origin story is that it was established to commemorate the poet Qu Yuan, who drowned himself in the Miluo River.
The customs of dragon boat racing and eating zongzi, or sticky rice dumplings are also derived from the story. According to legend, after Qu Yuan jumped into the river, local people raced in boats and tried to rescue him. However, they were unable to retrieve his body. To prevent fish and shrimp from consuming Qu Yuan's corpse, people began throwing zongzi into the river.
In September 2009, the Dragon Boat Festival was included in the Representative List of Intangible Cultural Heritage by UNESCO, making it the first Chinese festival to be inscribed on the list. But apart from China, there are many countries and regions around the world that have customs related to Duanwu Festival.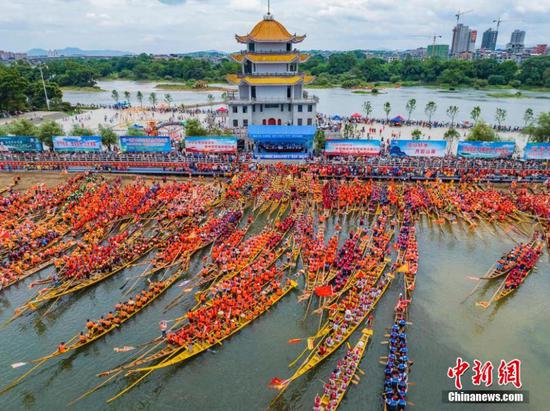 A total of 172 dragon boats and 4,816 participants compete at a dragon boat racing event in Yongzhou, central China's Hunan Province, June 18, 2023. (Photo: China News Service/Jiang Keqing)
Malaysia: Eating Zongzi, racing dragon boats
Every year during the Dragon Boat Festival, the Chinese community in Malaysia would eat zongzi and race dragon boats to preserve the traditional Chinese culture.
Different from zongzi in China, Malaysian zongzi come in a wide variety of fillings. Nyonya Zongzi is a traditional specialty food in Malaysia, especially popular among Chinese communities in Malacca, Penang, and Kuala Lumpur.
Nyonya Zongzi has unique fillings that include three-layered pork, peanuts, dried shrimp, candied winter melon, and a sauce made from local spices. Nyonya Zongzi is infused with local spices, creating a blend of sweet and savory flavors.
Various associations in Malaysia will organize zongzi wrapping competitions during the Dragon Boat Festival. This encourages community members to pass down the skill of zongzi wrapping from generation to generation.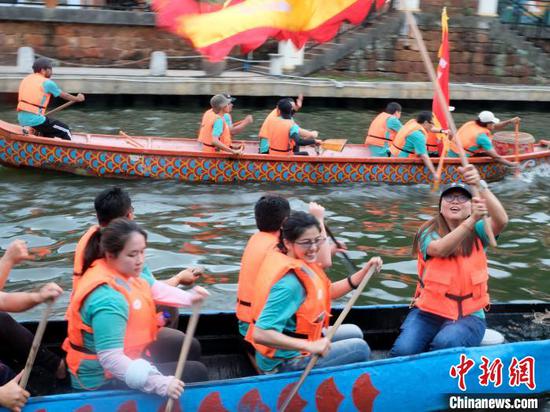 Melaka locals celebrate Dragon Boat Festival by racing dragon boats.(Photo: China News Service/Chen Yue)
Besides, dragon boat races are enthusiastically staged in Malaysia and take place in Sabah, Malacca, Penang, etc. The annual Dragon Boat Race in Malacca has been held nearly consistently since 1983 and has been growing in scale over the years.
Moreover, the participation of people from other ethnicities has been increasing. In recent years, almost every dragon boat team consists of individuals from different ethnic backgrounds, with Malay and Indian participants even outnumbering the Chinese. The Dragon Boat Race has received strong support from the Malacca state government, which considers it an important cultural tourism event. Not only do state officials attend the races, but the government also actively provides financial support for the event.
Thailand: Thai-style zongzi
The Dragon Boat Festival also holds special significance among Thai Chinese communities, with zongzi being a representative symbol of the event.
Thai-style zongzi was brought to Thailand by Chinese immigrants from the Chaoshan region of China and is mainly divided into two types: vegetarian zongzi and eight-treasure meat dumplings, with the latter being particularly popular. The eight-treasure meat dumplings are large and filled with a variety of ingredients, including shiitake mushrooms, salted egg yolk, chestnuts, gingko nuts, taro, Chinese sausage, pork, peanuts, shrimp, and glutinous rice, all seasoned with various flavorful seasonings.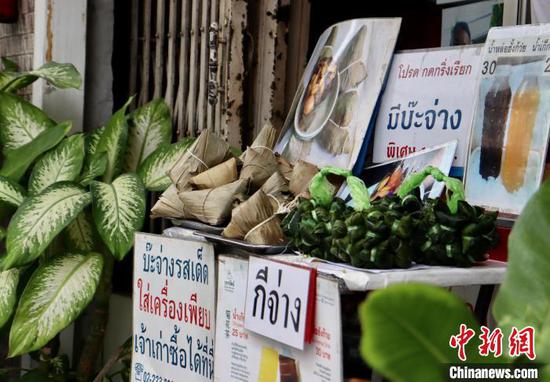 A dozen of Zongzi are sold on the street in Bangkok, Thailand.(Photo: China News Service/Wang Sixian)
Many second and third-generation Thai Chinese still maintain the customs of celebrating traditional Chinese festivals. In Thailand, zongzi is not only a delicacy during the Dragon Boat Festival but also represents the inheritance of Chinese traditional culture overseas.
Singapore: Dragon Boat Races
In Singapore, dragon boat races are held annually at locations such as Bedok Reservoir, Singapore River, and Kranji Bay. There are many dragon boat clubs in the local community, and some schools also organize dragon boat teams. Around the time of the Dragon Boat Festival, the local Chinese community organizes a Dragon Boat Carnival, which includes activities such as sharing traditional Dragon Boat Festival delicacies, dragon boat races, and traditional performances.
China's Duanwu Festival has impacted many other countries in history, but after development, it has evolved into a festival with distinctive local features.
South Korea: Gangneung Danoje Festival
The annual Gangneung Danoje Festival takes place in the town of Gangneung and its surroundings, situated east of the Taebaek Mountain Range on the Korean peninsula.
Apart from the similar timing, Gangneung Danoje Festival and China's Dragon Boat Festival are almost two different things, as it is a sacrificial ceremony, rather than a festival.
China's Dragon Boat Festival has many customs, such as hanging Artemisia argyi and calamus, eating Zongzi, drinking realgar wine, wearing sachets, carrying five-color threads, racing dragon boats, and commemorating Qu Yuan.
The Gangneung Danoje Festival only has different sacrificial rituals. The festival includes a shamanistic ritual on the Daegwallyeong Ridge, which pays tribute to the mountain deity and male and female tutelary deities. It encompasses traditional music and Odokddegi folk songs, the Gwanno mask drama, oral narrative poetry, and various popular pastimes. The Nanjang market, South Korea's largest outdoor marketplace, is today a major element of the festival, where local products and handicrafts are sold and contests, games, and circus performances take place.
The Gangneung Danoje Festival was Inscribed in 2008 on the Representative List of the Intangible Cultural Heritage of Humanity by UNESCO and it was originally proclaimed in 2005.
Japan: Tango no Sekku
While the Festivals in China and Korea are celebrated on the 5th day of the 5th month of the lunar calendar, in Japan, May 5 is a public holiday celebrating Children's Day and colorful displays of carp-shaped streamers called koinobori are hung outside homes.
This day was originally supposed to celebrate boys and wish for their success in life. Families with boys hang carp-shaped flags, and the number of flags indicates the number of boys in the household. In 1948, the Japanese government changed the name Tango no Sekku to Children's Day and made it a public holiday to celebrate both boys and girls.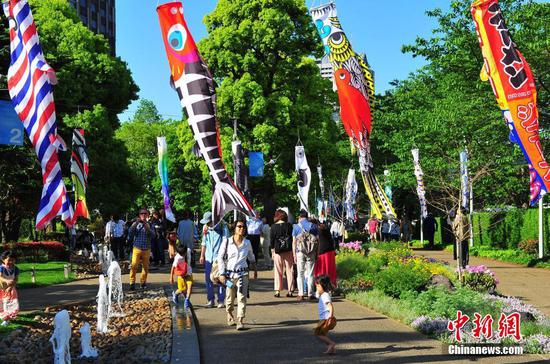 Carp-shaped flags are hung in a park in Tokyo on Tango no Sekku. (Photo: China News Service/ Wang Jian)
Tango no Sekku is one of the five ancient seasonal festivals influenced by Chinese customs, and the Japanese observance of the celebration is said to have begun around the Nara period (710–794).
People also eat zongzi, or "chimaki" ,"kashiwa-mochi" during the festival, but the shape is thinner and more pointed compared to Chinese zongzi. Similar to South Korea, Japan also uses iris leaves during the festival. In some regions, iris leaves and mugwort are inserted into the eaves of houses or placed on rooftops. Some areas serve iris wine or take baths with iris water. In Japanese, the word for iris sounds the same as "shobu," which means martial spirit.
Vietnam: Insect-Killing Festival
Duanwu Festival is widely known in Vietnam as the festival to kill inner insects. The festival has been celebrated for a long time in Vietnam. Local people in the olden days strongly believed that the fifth lunar month was a time of transition from spring to summer, traditionally a time when insects and diseases developed vigorously, affecting plants, domestic animals and humans.
With that strong belief, people organized insect-killing activities outdoors, and ate certain kinds of food to kill worms in their bodies. Many people in rural or mountainous areas also went to the field or the forest to collect medicinal plants such as mugwort and oriental motherwort to make herbal medicines for treating common diseases.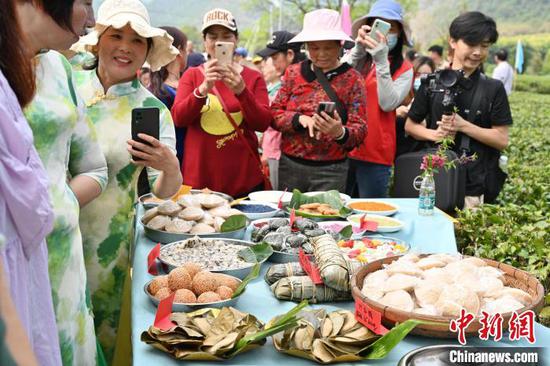 Vietnamese zongzi and other specialty foods have attracted many Chinese.(Photo: China News Service/Chen Chuhong)
It is also customary for Vietnamese people to prepare a table of food, including plums, peaches, lychees, rambutans, mangoes, and watermelons as an offering to their ancestors, praying for good luck, prosperity, and harmony throughout the year.
Shared memory and culture bond
In addition, in Chinese communities in Western countries such as the United States, the United Kingdom, Germany, and others, there are also customs of dragon boat racing and eating rice dumplings during the Dragon Boat Festival.
While Zongzihas developed different local flavors in different countries. In Indonesia, in addition to using glutinous rice to wrap meat, curry spices are also added, giving rise to curry pork zongzi, curry beef zongzi, and curry chicken zongzi. In the Philippines, the shape of zongzi transforms into a long and cylindrical form. Apart from the Dragon Boat Festival, locals also consume zongzi during Christmas.
The diverse customs of the festival in different regions and countries serve as windows to showcase the vibrant vitality of traditional Chinese and local culture. And the customs of making zongzi, participating in dragon boat races, hanging mugwort leaves, and wearing scented sachets have become a common cultural bond and shared memory for Chinese people worldwide, conveying their love of family and friendship.