(ECNS)-- April 20 this year marks the 14th UN Chinese Language Day, with a variety of celebrations held at home and abroad.
A forum themed "The Chinese language: facilitating dialogue across civilizations" was held at the UNESCO headquarters on Tuesday to celebrate the event.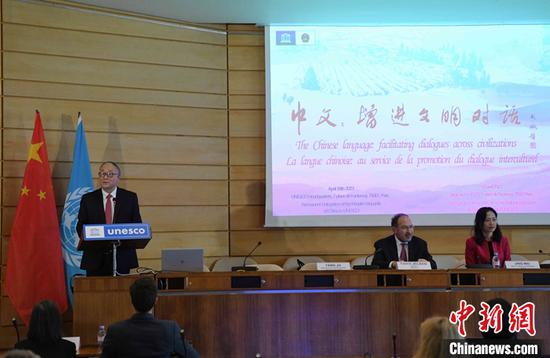 Yang Jin, permanent representative of China to UNESCO, speaks at a
forum themed "The Chinese language: facilitating dialogue across civilizations" held at the UNESCO headquarters on April 18, 2023. (Photo/China News Service)
More than 200 representatives from UNESCO and universities in Europe attended the forum.
Chen Jie, vice minister of Education in China, said that language is the bearer of human civilization. As one of the six official languages of the United Nations, Chinese is an important medium for China to participate in international cooperation and plays a positive role in promoting people-to-people exchanges and cultural integration between itself and other countries.
Students at the Confucius Institute of the University of Johannesburg in South Africa drew Chinese calligraphy to celebrate the event.
Chen Weijie (Chinese name), from Panama, is a student at Beihang University in Beijing. He said "Chinese culture, food and clothes are very popular in Panama. As the bearer of Chinese civilization, the Chinese language is rightly popular in Panama."
His brother Chen Weipeng (Chinese name) is studying at the Central University of Finance and Economics in Beijing. "Fluency in Chinese is a useful tool for me to make many friends here," he said.
The young man has been to a dozen Chinese cities. To him, language is the key to appreciating the culture and customs, which has aroused his curiosity and yearning to travel to more Chinese cities.
The date for the Chinese Language Day was selected from Guyu ("Grain Rain" or "Rain of Millet"), which is the 6th of 24 solar terms to pay tribute to Cangjie, a mythical figure presumed to be the inventor of Chinese characters about 5,000 years ago.
Legend has it that Cangjie had four eyes and four pupils, and that when he invented the characters, the deities and ghosts cried and the sky rained millet.
From then on, Chinese people celebrate Guyu in honor of Cangjie.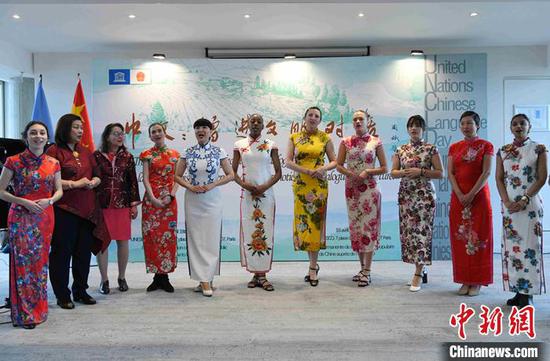 People attending the forum themed "The Chinese language: facilitating dialogue across civilizations" sing Chinese songs at the UNESCO headquarters on April 18, 2023. (Photo/China News Service)