(ECNS) -- As the weather warms up, various regions in China are introducing measures to promote local tourism. Some cities and areas have launched tourist trains that connect multiple popular attractions, allowing passengers to enjoy local scenery and beautiful views along the way.
Zibo special barbecue train
Zibo City in east China's Shandong has become popular due to its local specialty food, Zibo barbecue, and many tourists from surrounding cities visit specifically to taste the barbecue. On March 31, a special train line from Jinan, capital city of Shandong province, to Zibo was launched.
Unlike barbecue in other regions, Zibo barbecue has a small stove at each table, allowing customers to grill their own skewers and sandwich the cooked meat with small buns.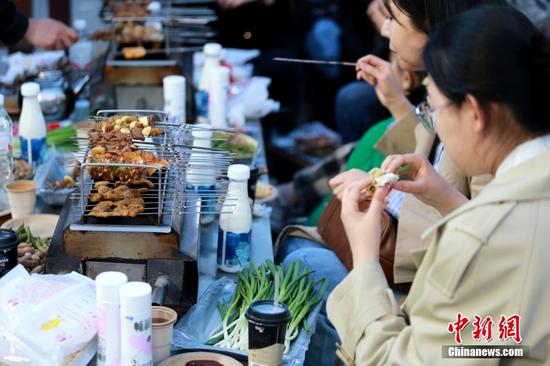 Customers taste Zibo barbecue at Zibo, east China's Shandong Province on March 31 (Photo: China News Service/Liang Ben)
The ticket price for this special train line is the same as the regular high-speed train ticket price, and it operates on Fridays, Saturdays, and Sundays. The opening of this special train line will greatly ease the pressure of weekend traffic and provide convenience for more tourists who want to travel from Jinan to Zibo for barbecue and sightseeing on weekends.
Special train to see Shaanxi rapeseed flowers
Rapeseed flowers in the ancient terraced fields of Fengyan in Ankang, central China's Shaanxi Province have been in full bloom. The vast expanse of the flowers is layered in a beautiful pattern.
On March 30, a customized tourism train departed from Xi'an, the capital city of Shaanxi Province, headed to the rapeseed flower sea in Fengyan.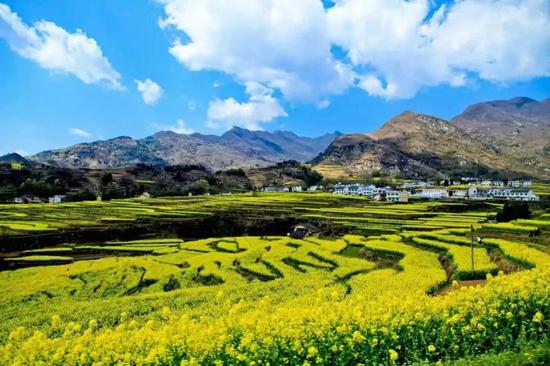 Photo shows the sea of rapeseed flowers in Fengyan, central China's Shaanxi Province. (Photo provided by the Cultural and Tourism Bureau of Ankang)
Tourists can enjoy the beautiful scenery outside the train window, drink tea, and experience entertainment facilities such as mahjong and KTV on the train.
After admiring the rapeseed flower sea, tourists can also visit local characteristic attractions for free, and taste the specialty food of Shaanxi. In the evening, tourists can take the special train back home.
Taklamakan Desert special train
The ancient and mysterious Taklamakan Desert in Northwest China's Xinjiang Uyghur Autonomous Region represents the largest desert in China and the second largest mobile desert in the world, with unique natural landscapes and rich cultural values. On March 27, the Y936 tourist train, carrying 523 tourists, departed from Urumqi Station, starting an 11-day tour around the Taklamakan Desert.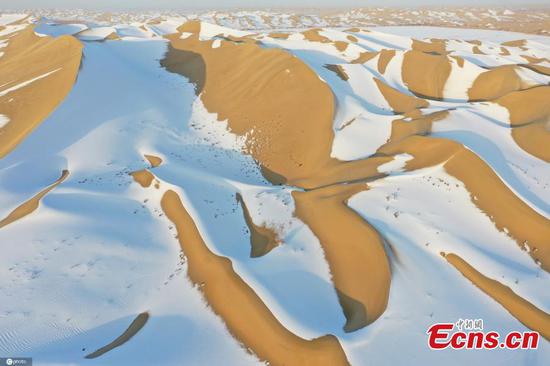 Photo shows the snow scenery on the edge of Taklamakan Desert in northwest China's Xinjiang Uygur Autonomous Region. (Photo/IC)
The tourist train passes through many popular tourist attractions such as Kuqa, Kashgar, Hotan, Ruoqiang, and Korla, allowing tourists to enjoy the magnificent and beautiful scenery of southern Xinjiang from the train.
Beijing-Huangshan tourism special train
On March 28, 428 tourists departed from Beijing Fengtai Station and boarded the Y61 tourism special train bound for Huangshan Mountain. Over the course of eight days, they visited Ganzhou in Jiangxi, Taining in Fujian, Huangshan in Anhui, and see attractions of the Tongtianyan Scenic Area, the Zhiaxia Grand Canyon in Zhaixia Town, Huangshan Mountain, and Qiandao Lake.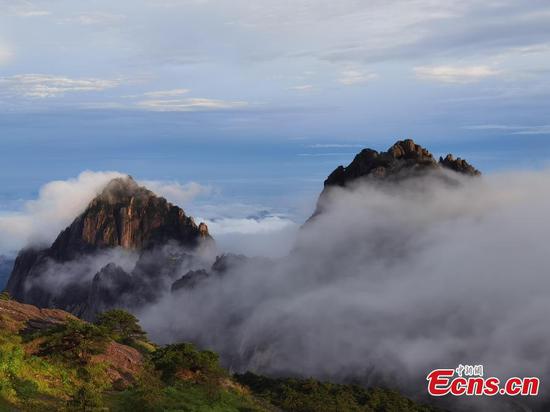 Autumn rain refreshes Huangshan mountain in Anhui Province. (Photo/ Li Jingang)
"We don't need to change trains during the whole journey, and large luggage can be left on the train. After getting off the train, we only need a backpack, and there is also storage space for the specialty products we bought. The accommodation, dining, bathroom, and toilet facilities on the train are good, and the travel experience is excellent," said a tourist.