(ECNS) -- "The decision to contribute 200,000 euros through the IAEA to technical assistance to Ukraine on nuclear safety and security is just one concrete step China has taken to support the IAEA's efforts to strengthen nuclear safety in Ukraine," Chinese Foreign Ministry spokesperson Mao Ning said on Wednesday.
"China attaches high importance to nuclear safety and actively participates in international cooperation in this field," Mao said at a regular news conference.
"The Ministry of Foreign Affairs of China recently released the Global Security Initiative Concept Paper, which identifies efforts to promote international cooperation on nuclear security as one of the priorities of cooperation," she said.
"In the recently-released China's Position on the Political Settlement of the Ukraine Crisis, it is also clearly stated that China opposes armed attacks against peaceful nuclear facilities and supports the IAEA in playing a constructive role in promoting the safety and security of peaceful nuclear facilities," Mao added.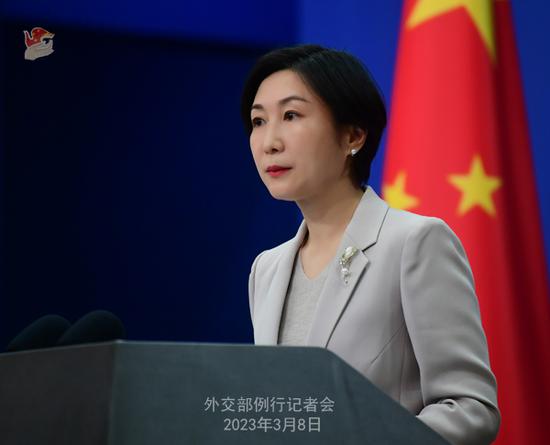 China's Foreign Ministry spokeswoman Mao Ning. (Photo/fmprc.gov.cn)
She pointed out that China will continue to work with the rest of the world to build a fair, collaborative and mutually beneficial international nuclear security system. "We will also continue to promote talks for peace and support efforts towards a political settlement of the Ukraine crisis, so as to remove the source of nuclear safety risks and keep Ukrainian nuclear facilities safe," she added.
Ambassador Li Song, Permanent Representative of China to the UN and other International Organizations in Vienna, announced at the IAEA Board of Governors meeting on March 6 that China will contribute 200,000 euros in support of efforts to address the issue of safety and security of nuclear facilities in Ukraine.