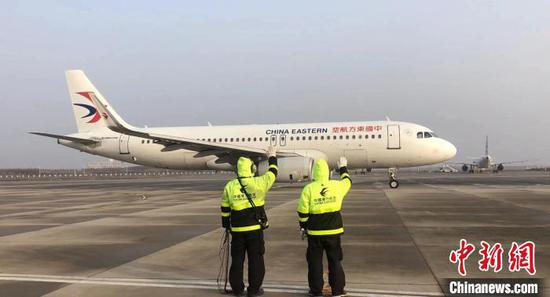 Photo shows aircraft maintenance engineers from China Eastern Airlines (Photo provided to China News Service)
(ECNS) -- When a passenger plane was set to take off in east China's Zhejiang Province, two staff in ground support waved farewell together, looking like two windshield wipers.
The scene was captured by a passenger and went viral on China's social media, and the two workers got a very warm and interesting nickname: plane goodbyers.
The "plane goodbyers" are aircraft maintenance engineers from China Eastern Airlines who are responsible for ground service.
When a plane is confirmed safe to take off, one will raise a red ribbon and the other gestures for the plane to slide forward. After that, they wave farewell together to wish passengers a nice trip.
The gesture dates back to an airport story in 2005, when a passenger sent a handwritten letter saying it was pleasant to see staff wave goodbye to them. China Eastern Airlines has kept the tradition since then.
"I feel that the video is quite cute. This is the only opportunity we have to interact with passengers, and the happiest thing is to see that the passengers in the cabin are also waving to us," said Yang Wei, a "plane goodbyer" at Hangzhou International Airport.