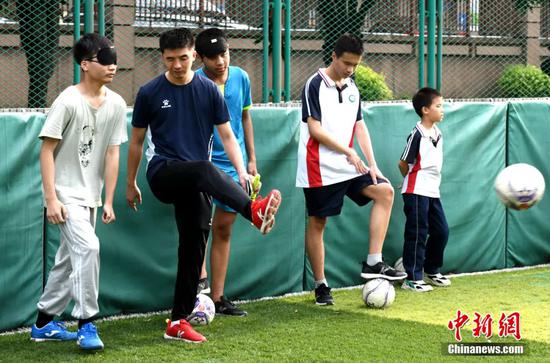 Wang Yafeng trains his students at Fuzhou School for the Blind (Photo/China News Service)
(ECNS) -- Nicknamed the "Messi of blind footballers", coach Wang Yafeng has taught visually impaired children that their futures lie far beyond their perceived limitations.
His unique skill involves taking three steps back before each accurate kickoff or shoot.
He can spot a silent ball and accurately calculate the best angle before he shoots. This requires not only great directional ability and absolute confidence, but also persistent training, Wu Shuying, the then principal of the Fuzhou School for the Blind, told China News Service.
Wang was born in a mountain village in Fuzhou City, southeast China's Fujian Province in 1990. His fate changed after he was sent to the Fuzhou School for the Blind at the age of 8.
He was among the first batch of blind footballers in China.
As a member of the Chinese Men's Blind Football Team, Wang won a silver medal at the 2008 Beijing Paralympic Games, a gold medal at the 2010 Asian Para Gamesin Guangzhou, Guangdong Province, third place at the2010 IBSA World Blind Football Championship, and the champion's title at Asian Championships for five consecutive years.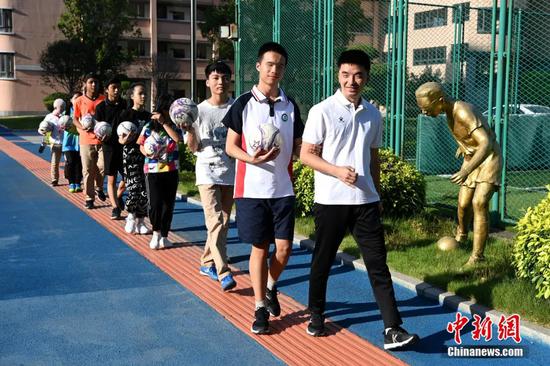 Wang Yafeng trains his students at Fuzhou School for the Blind (Photo/China News Service)
Wang became a coach at Fuzhou School for the Blind after retiring in 2016.
Like his previous coach Zou Hongmou, he continuously encourages the next blind generation of footballers.
His blind students, ranging from 9 to 18 years of age, at first expressed fear when considering a future in football.
Running in the dark is their biggest obstacle, Wang said. They fear falling, running into one another, missing the ball, and not being able to find their direction.
But I hope football can teach them to become strong both physically and mentally, Wang said.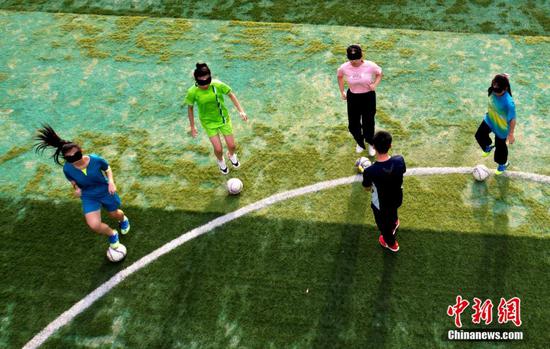 Wang Yafeng trains his students at Fuzhou School for the Blind (Photo/China News Service)
Under his training, four blind players have been selected for the provincial squad.
"Entering the school for the blind and playing football under Coach Wang are the two most important things in my life," said 18-year-old Zhang Jiasong, who competed at the 11th National Paralympic Games last year.
"I found hope and dreams in the dark," Zhang added.
When blind football became popular in China around 2005, Wang's then-coach Zou Hongmou resolutely strived to provide the best training conditions possible at the time.
Zou sewed a bell to the inside of a football to produce sound, dismantled a bed board to use as fence, and coached his blind students on cement, resulting in many injuries.
Zou repeatedly encouraged Wang, saying "Try again, don't be afraid".
Wang had two front teeth broken and his mouth filled with blood during fierce competition at the 9th National Paralympic Games held in Chengdu in 2015. But he finally secured success thanks to excellent skills, winning overwhelming applause for his team, an excited Wu recalled.
In China, today, more and more visually impaired people enjoy increasing career options. Now, they can work as piano tuners, stenographers, visually impaired, internet service testers, coaches, and even lawyers, among others.