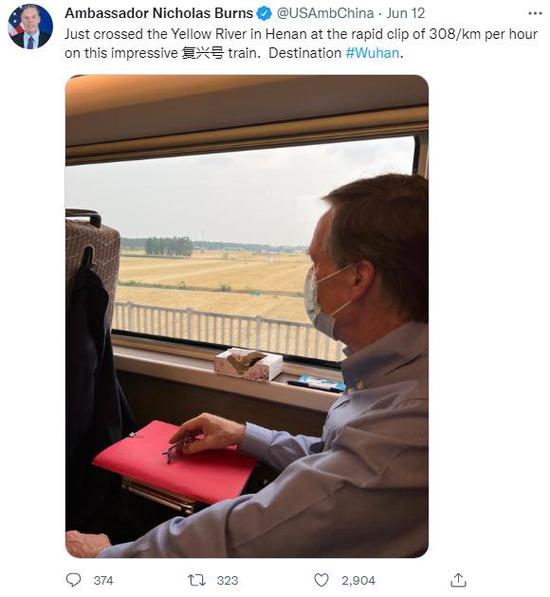 Photo shows a post of the U.S. ambassador in China Nicholas Burns.
(ECNS) -- The U.S. ambassador to China Nicholas Burns said he was impressed by China's Fuxing bullet train during his visit to Wuhan from Beijing on Sunday.
Burns posted a photo on Twitter in which he sits by the window of the train when the train arrived in central China's Henan, saying "Just crossed the Yellow River in Henan at the rapid clip of 308/km per hour on this impressive 复兴号 train. Destination #Wuhan."
The post triggered discussion among overseas netizens on China's high-speed rail.
Some said "Really wish we had the same high speed trains in the states.Our infrastructures are severely lacking."
Some netizens who know well about China also praised the Fuxing bullet train. "This train ship was amazing and when normality returns to the world I suggest anyone who can to take it and also enjoy Wuhan which is a really lovely city," one said.
Burns visited the former site of the U.S. Consulate General in Wuhan, Wuhan University and other places during his trip.
During his visit to Wuhan University, he received a fan with "He", or harmony in English, from a student of the school.
Burns said it is "a meaningful message that, despite the considerable differences between our governments, young Americans and Chinese need to continue to engage with each other."