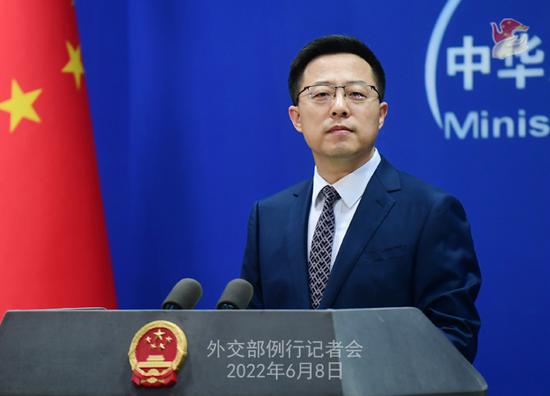 Chinese Foreign Ministry spokesperson Zhao Lijian addresses a press conference on June 8, 2022. (Photo/fmprc.gov)
(ECNS) -- Chinese Foreign Ministry spokesperson Zhao Lijian refuted U.S. Trade Representative Katherine Tai's claim of "forced labor" in Xinjiang at a press conference on Wednesday.
The following is full text:
As the Chinese side has stressed many times, the allegation of "forced labor" in Xinjiang is nothing but a lie of the century. "Forced labor" in Xinjiang is a lie deliberately made up and spread by the U.S. to shut China out of the global supply and industrial chains. China is the world's largest photovoltaic (PV) manufacturer and has more installed capacity than anyone else. Xinjiang is the world's most important production base of polysilicon, an essential material of the PV industry. By fabricating the lie of "forced labor" in Xinjiang, the U.S. aims to achieve its sinister goal of suppressing the competitive edge of Xinjiang's PV industry and relocate it out of China through political manipulation. 
Speaking of forced labor, the U.S. should have a look at its own history and reality. The U.S. is known historically for its original sin of engaging in slave trade and still has serious problems of human trafficking and forced labor today. It still has not ratified the Forced Labour Convention (1930), the United Nations Convention on the Rights of the Child and the Convention on the Elimination of All Forms of Discrimination against Women. Nearly 100,000 people are smuggled into the U.S. for forced labor every year. At least half a million people are enslaved in the U.S.. There is a large number of child farmworkers in the U.S. and many of them started working as young as age 8. Roughly 240,000 to 325,000 women and children in the U.S. are victims of sexual slavery. More than 100,000 people in the U.S. were detained in private prisons at some point and they are forced to take up intense and low-paid labor for long periods of time.
In April 2021, the UN Special Rapporteur on the negative impact of unilateral coercive measures on the enjoyment of human rights and the UN Working Group on Arbitrary Detention issued a joint statement pointing out that the U.S. makes individuals of other countries carry out tasks against their will with threats to impose sanctions. This amounts to forced labor. It infringes upon the individuals' rights and gravely violates the humanitarian spirit and international law. 
What the U.S. did will hamstring normal trade of PV products, disrupt the supply chains and undermine the global response to climate change. In the end, this will also backfire and hurt the U.S.'s own interests. China will take all necessary measures as always to resolutely safeguard the lawful rights and interests of Chinese companies.