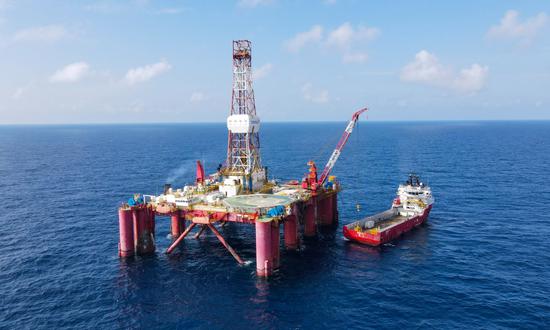 CNOOC's oil and gas extraction facility (Photo/CNOOC)
(ECNS) -- China's first domestically developed offshore oil and gas extraction facility, the Subsea Xmas Tree, has been installed in the Yinggehai sea in South China's Hainan Province, China National Offshore Oil Corporation (CNOOC) announced on Wednesday.
The Subsea Xmas Tree is the core equipment in the offshore oil and gas production system. Only five enterprises in the U.S. and Europe have mastered the design and construction of the underwater extraction system.
The installation of the "Xmas Tree" marks a further step in China's deep-sea oil and gas resource development.
Once the system is finished and put into service, the cost of extraction will be reduced by nearly 27 percent, while resource development in surrounding sea areas can be accelerated, said Liu Shujie, chief engineer of the CNOOC Hainan branch.
The system will produce about 200 million cubic meters of natural gas per year, according to CNOOC.