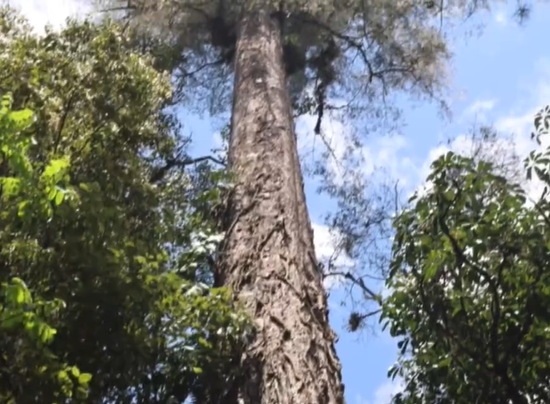 The 76.8-meter Bhutan pine in in Medog County, Southwest China's Tibet Autonomous Region (Photo/China News Service)
(ECNS)-- A 76.8-meter Bhutan pine was discovered in Medog County, Southwest China's Tibet Autonomous Region, setting a new record for the highest tree in the Chinese mainland, local Forestry and Grassland Bureau told China News Service on Sunday.
The pine tree was found by a joint survey team who used a UAV lidar system to conduct a large-scale mapping and found 11 giant trees potentially taller than 70 meters. The team carried a backpack LIDAR into the forest hinterland to conduct detailed mapping of the 11 giant trees.
It also used UAV suspension ropes and tapes to verify the height and diameter at breast height and record detailed data.
After a 10-day field investigation, data collection and processing, the team found the 76.8 meter Bhutan pine after obtaining fine 3D point cloud data of the tree and stitching photos shot by the UAV into a picture of the whole giant tree.
Bhutan pine is native to Eastern Himalayas, and it's mainly distributed in mountain rainforests and subtropical climate zone at an altitude of 1,400 meters to 2,500 meters. A variety of epiphytic plants and endemic plants of Medog were also found on the 76.8 meter Bhutan pine tree, including Pholidota articulata, Otochilus porrectus, Coelogyne corymbosa, Bulbophyllum emarginatum and more.
The investigation team has discovered eight giant trees with a height ranging from 70.2 meters to 76.8 meters in Gelin Village in Medog County.
The findings further confirmed that Medog County and Brahmaputra Grand Canyon area have extremely high conservation value and cultural significance, which fully reflects the authenticity of the forest ecosystem in the Yarlung Zangbo Grand Canyon.
The joint investigation team was led by Lv Zhi and Guo Qinghua of Peking University, the Xizijiang Ecological Conservation Center, the Shanshui Conservation Center, and Beijing Green Valley Technology. Co., Ltd.