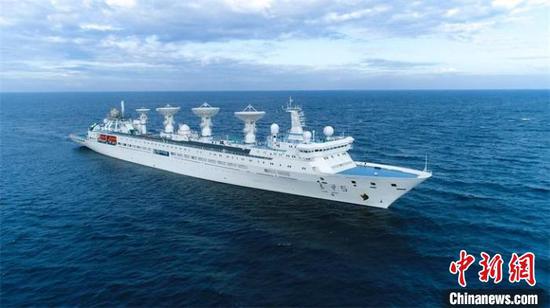 Photo shows the tracking ship Yuanwang-5. (Photo/China News Service)
(ECNS) -- China's third-generation spacecraft tracking ship Yuanwang-5 set sail on a new maritime tracking and measuring mission on Tuesday.
Independently developed by China as an essential member of the country's maritime tracking and measuring fleet, the ship has successfully operated more than 80 tasks, including maritime tracking of the Shenzhou spacecraft, Chang'e lunar probe and BeiDou satellites.
The ship sailed for a total of 256 days in 2021, setting up new records in missions, cumulative sailing mileage, and average sailing days of a single ship of the Yuanwang family.
Before sailing, the ship carried out a 50-day ship-repair, technical upgrade, which greatly improved the navigation power, safety performance, reliability and operability of its specialized equipment.
"We've sorted out the similarities and differences of similar mission data over the years and conducted technical exchanges and dialogues to make the technical points clear so as to make sufficient preparations for this mission," said Zhang Hongwang, a vice captain of Yuanwang-5.
Currently, Yuanwang-7, which has completed many maritime tracking and measuring tasks, has returned to its home port while Yuanwang-6 started its first voyage this year.