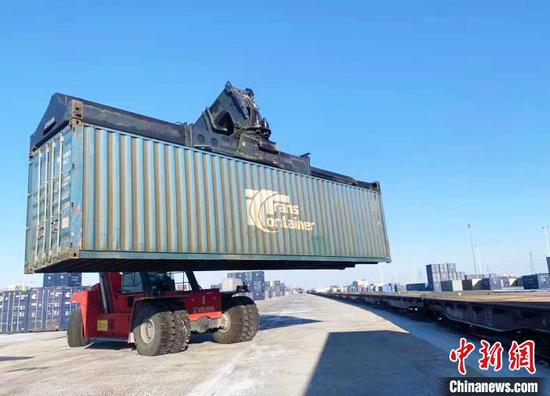 A Changchun-Manzhouli-Europe cargo train loads containers, January 2, 2022. (Photo provided to China News Service by Changchun International Land Port Development Co., Ltd.)
(ECNS) -- The first Changchun-Manzhouli-Europe cargo train in 2022 headed for Nuremberg, Germany, on early Sunday morning.
Carrying 100 twenty-foot equivalent units (TEUs) of automobile parts, mechanical equipment and electronic products, it will arrive in Nuremberg in 10 days as planned.
The Changchun-Manzhouli-Europe cargo line, one of the China-Europe freight lines from northeast China's Jilin Province, has transported 67,700 TEUs of goods with a total value of 20 billion yuan (about $3.15 billion) as of the end of 2021 since its launch in 2015.
Among them, a total of 9,712 TEUs of commodities worth about 3.14 billion yuan have been transported in 2021 and local commodities of Jilin accounted for 42 percent.
The other China-Europe freight line, the Changchun-Hunchun-Europe cargo train line, has seen 1,624 TEUs valued at about 0.37 billion yuan transported to Europe.
As an important industrial and agricultural province in China, Jilin has set up a good foundation in automobile industry and agricultural product processing industry. Its export commodities are mainly mechanical and electrical products, agricultural products, automobile parts, etc.