Special: Xinjiang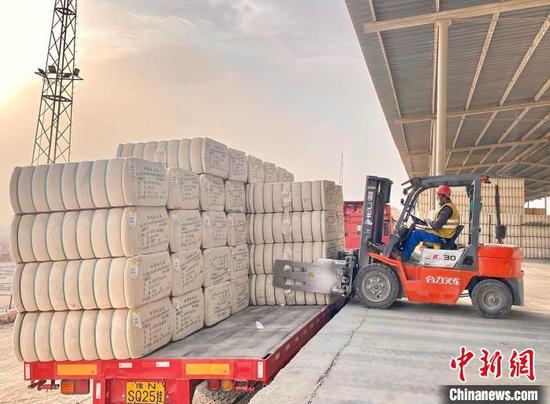 Photo shows a cotton warehouse in Urumqi, Xinjiang Uyghur Autonomous Region. (Photo/China News Service)
(ECNS) -- The railway department of China's Xinjiang Uyghur Autonomous Region has optimized warehousing, loading and other links to ensure that Xinjiang cotton is transported to customers rapidly.
As a main cotton production area in China, Xinjiang has delivered more than 207,800 tons of the product so far since October.
Bazhou is a main cotton planting base in Xinjiang. Enterprises processing, transporting and selling cotton gather here to transport cotton to their customers via rail.
"Less than 1,000 tons of cotton of last year was left in our warehouse due to great market demand. What we are transporting now is cotton produced this year," said Zhang Qing, a manager of a local logistics company.
Xinjiang plants cotton on a large scale and has realized mechanized picking. High-tech agriculture investment and advantageous geographical conditions here make this year's cotton quality better than before, with market supply greatly increasing. Less cotton storage in the market calls for new cotton to meet demand, according to Zhang Qing.
In order to ensure new cotton is transported to customers as soon as possible, Xinjiang railway department has expanded and ameliorated its entire logistics system for cotton transportation, especially focusing on improving transportation capacity, while accurately determining customer cotton storage and sales needs.
"We fully ensure empty vehicles are used to transport cotton to shorten waiting times for enterprises to thrive in the market," said Gong Peipei, from Korla transport center in Xinjiang.
In addition, Xinjiang railway department also cooperates with China National Cotton Exchange, as well as cotton production and sales enterprises on "highway-to-rail" transportation while providing one-stop transportation services that ensure smooth connection and rapid transportation of Xinjiang cotton.