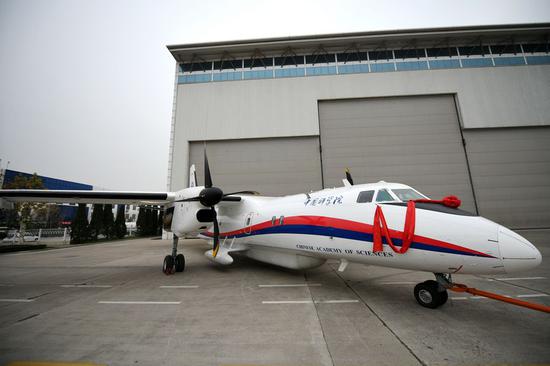 Photo taken on Nov. 27, 2019 shows a Xinzhou-60 aircraft for remote sensing in Xi'an, northwest China's Shaanxi Province. (Photo/Xinhua)
(ECNS) -- A China-made Xinzhou-60 airplane set off for Djibouti on Saturday from Kunming Changshui International Airport in southwest China's Yunnan Province, marking the completion of overseas delivery of the airplane by Xi'an Aircraft Industry Co. (XAC) and its partners.
This is the second Xinzhou-60 aircraft delivered to Djibouti by XAC, and this type of aircraft has won positive feedback from its customers since its first delivery, according to XAC.
This plane set off from Yanliang, Xi'an, Shaanxi Province last Tuesday and arrived at Kunming Changshui International Airport after a three-and-a-half hour journey. It was officially delivered on Friday.
The airplane began its overseas journey on Saturday and will arrive in Djibouti in four days after a journey of 431 nautical miles (about 8,950 kilometers), passing though six countries including Myanmar, Bangladesh, India, Pakistan, Qatar, and Saudi Arabia.