(ECNS) -- China's independently-developed Feitian spacesuit has passed three tests of extravehicular activity, ensuring the smooth implementation of space missions.
The Feitian spacesuit was developed by the Astronaut Center of China, after tackling challenges including the weight of the spacesuit and gloves for each astronaut.
The new generation the Feitian ("flying in the sky") spacesuit has optimized soft structures to provide more comfort. In addition, different sized gloves have been designed, such as the XS-size glove especially made for Wang Yaping, the only female astronaut present on the current mission.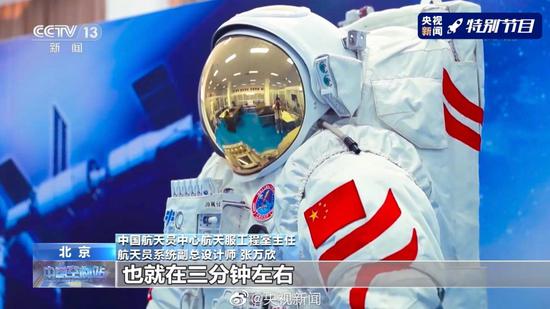 Feitian spacesuit developed by the Astronaut Center of China. (Photo from CCTV)
Ran Qian, the upper-limb designer, Shang Kun, the glove designer, and Liu Dongyue, the lower-limb designer, have worked day and night to produce the best spacesuit.
Su Junyan, a process designer, converted the plane figures from designers to sample plates of different shapes, and then handed them to her husband Yang Jinxing, leader of the sewing group.
With unremitting effort, the iteration period of the Feitian spacesuit has been significantly shortened, from a month to a week.
The three astronauts who have worn the spacesuit spoke highly of it, claiming it is more flexible for extravehicular activities after optimization.
With the support of the Feitian spacesuit, the Shenzhou 13 crew, Zhai Zhigang, Wang Yaping, and Ye Guangfu, have successfully conducted three spacewalks.