(ECNS) -- Chinese and U.S. players will team up in the mixed doubles competition of 2021 World Table Tennis Championships in Houston, as announced at the Banquet in Commemoration of the 50th Anniversary of China-U.S. Ping-Pong Diplomacy on Sunday.
Chinese player Lin Gaoyuan will partner with U.S. player Lily Zhang, while Chinese player Wang Manyu joins U.S. player Kanak Jha.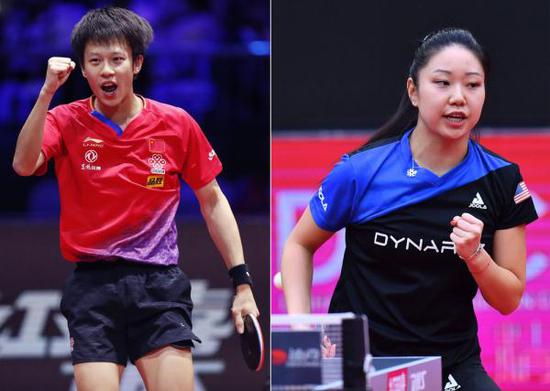 Chinese player Lin Gaoyuan (L) and American player Lily Zhang. (Photo: Xinhua/Han Yan & Zhu Zheng)
"I hope both Chinese and American fans will cheer for us," said Lin, a 26-year-old Chinese player who ranks 5th in Table Tennis World Rankings for men's singles. "It's not only the first cooperation between players from China and the U.S., but a way to push forward the friendship between both sides."
"I think it's a historic moment," said Zhang, a 25-year-old American player who ranks 35th in Table Tennis World Rankings for women's singles. "I'm so glad both countries can cooperate through table tennis."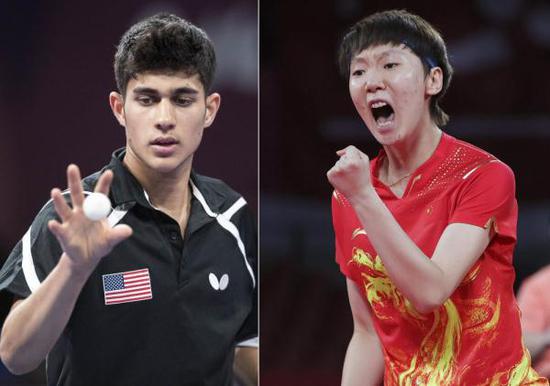 American player Kanak Jha (L) and Chinese player Wang Manyu. (Photo: Xinhua/Li Ming & Wang Dongzhen)
"We have been thinking how we can enhance the friendship between China and the United States through table tennis based on the solid friendship built by our predecessors to mark the start of 'Ping-Pong Diplomacy' 50 years ago," said Liu Guoliang, president of Chinese Table Tennis Association.
Teaming Chinese players up with American counterparts may help open a new chapter in Ping-Pong Diplomacy, he added.
"I also hope they would make their own contributions to the promotion and development of table tennis in the world," Liu said.
The 2021 World Table Tennis Championships, in its 56th edition and the first competition held in the United States, is scheduled to be held in Houston from Nov. 23 to 29.