(ECNS) -- Brandon Collins-Green, a 37-year-old Canadian and doctoral candidate in ancient Chinese literature at Jiangxi Normal University in Nanchang, capital of East China's Jiangxi Province, has been translating ancient Chinese poetry since 2015.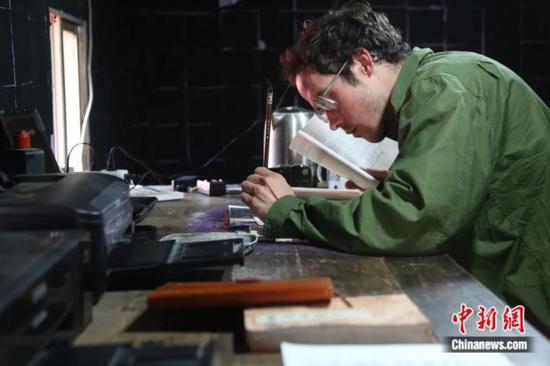 Canadian Brandon Collins-Green, whose Chinese name is Lin Buran, translates ancient Chinese poems. (Photo: China News Service/Jiang Tao)
Spending 10 hours every day in translation for the past six years, Collins-Green, whose Chinese name is Lin Buran, has finished 1,000 poems.
"Academic translations may be more accurate, but some of them neglect the poetic beauty. I want my translations to be more beautiful," says Collins-Green.
He used to draw pen illustrations for his translated poems, but found a brush could do better after practice.
In his view, names of people and places, along with some allusions are pretty difficult to translate, so he would borrow some conceptual words similar to those used in the West instead.
His studio lies beside Jiangxi Normal University, where a tiny nine-square-meter room at the end of a winding path is packed with a desk piled with Xuan paper, writing brushes, pigments, books, and a laptop, with the translation of "An Epigraph in Praise of My Humble Home" placed somewhere conspicuous.
"Others may think my studio is so modest, but I think such a lifestyle is a kind of 'cultivation'. I like my humble room very much," says Collins-Green.
"Ancient Chinese poems are so beautiful, making the Chinese language really worth learning," added him. "Many of my friends and family members in Canada have grown an interest in Chinese after reading my translations."
Since March, his works have been exhibited at art festivals in cities including Beijing, Shanghai, Hangzhou and Xi'an. He hopes to stay in China to continue his translation of ancient Chinese poems.