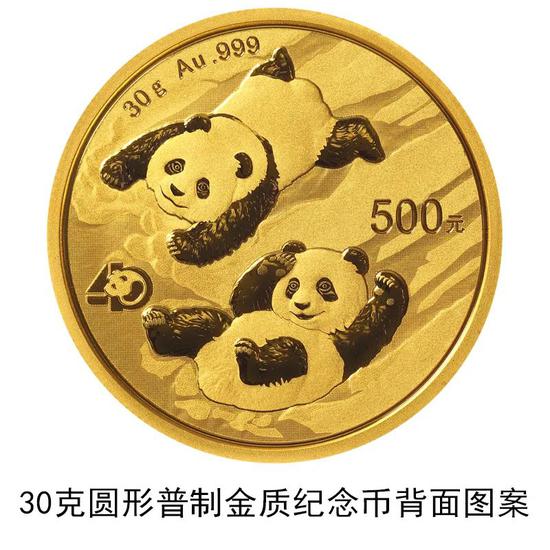 This photo shows the reverse side of a 30-gram panda commemorative gold coin. (Photo/pbc.gov.cn)
(ECNS) -- The People's Bank of China (PBOC) issued a set of panda commemorative coins in Shanghai on Wednesday.
The set has eight common coins and six refined coins, two of which contain 30 grams of 99.9 percent pure platinum.
This issuance of platinum commemorative coins is the first since 2005.
The 2022 edition of 14 gold and silver coins are all legal tender in China, according to the PBOC.
The obverse side of each commemorative coin features the Hall of Prayer for Good Harvests at the Temple of Heaven in Beijing, along with the country name and year of issuance.
All coins feature a scene of giant pandas playing in the snow on the reverse side, which echoes China's 2022 Winter Olympic Games, along with the denomination and weight of the coin.
In addition, the number "40" engraved on each coin marks the 40th anniversary of the first panda coins.
The PBOC began to issue panda commemorative coins made of precious metals on September 15, 1982. It has issued 41 sets so far.
The Chinese panda commemorative coin, the American Eagle coin, the Canadian Maple Leaf coin, the South African Krugerrand coin and the Australian Kangaroo coin are known as the world's top five investment coins. Unlike the other four coins, the pattern of the Chinese panda coin changes every year.