(ECNS) -- More than 6,000 stone and earthen artifacts have been discovered at the Piluo site in Daocheng county, Sichuan province, the National Cultural Heritage Administration said at a news conference Monday.
The groundbreaking archaeological discoveries offer crucial clues that mankind stepped onto the Qinghai-Tibet Plateau 130,000 years ago.
The discoveries include Acheulean hand axes. First found in France, this type of relic is generally considered by scholars to represent the highest level of tool manufacturing at the time.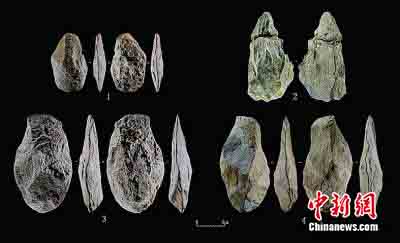 Acheulean hand axes unearthed in Piluo Site. (Photo provided by the National Cultural Heritage Administration)
Previously, Acheulean hand axes were only unearthed in East Asia, including China, and were thought to be rougher than their counterparts found farther west.
The Piluo site covers more than one square kilometer, including 60 heritage spots, but only 200 square meters have been excavated so far.
It is incredible to find so large an area of Paleolithic period site on the plateau, said Zheng Zhexuan, an archaeologist with the Sichuan Provincial Cultural Relics and Archaeology Research Institute.
Finding the hand axes on the Qinghai-Tibet Plateau offers crucial clues for the study of early humans' ability to conquer the harsh natural environment and the beginning of human settlements on the plateau, according to Zheng.
Experts say the Acheulean hand ax is a great new find of academic and social-political significance worldwide.
The Piluo site is the largest known and best-preserved archaeological site from the Paleolithic period on the Qinghai-Tibet Plateau.