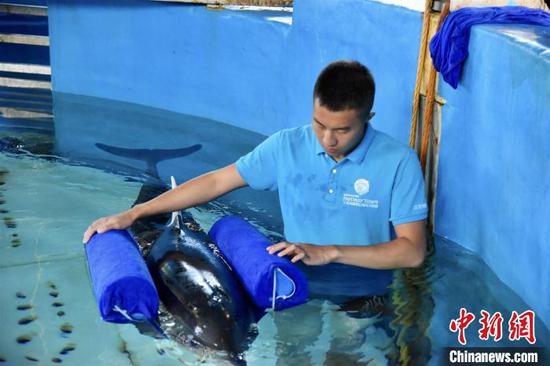 A staff member of Sanya Haichang Biological Conservation Center shows a specially-made device for an injured dolphin. (Photo provided to China News Service)
(ECNS) -- Veterinarians in Sanya, a city in southwestern Hainan Province have helped rehabilitate a two-meter long Fraser's dolphin with a specially-made stretcher and floats.
The dolphin was stranded on the beach in Ledong Li Autonomous County, South China's Hainan Province, on June 15.
"The dolphin was seriously dehydrated, and its vital signs were very unstable," said Pang Lei,a staff member of Sanya Haichang Biological Conservation Center.
"Its eyes were closed, and it couldn't even balance itself under the water," Pang added.
A rectangular stretcher comprising steel pipes was specially made to help the dolphin receive treatment in the pool.
"But we couldn't let it stay in the water all day, so we made a buoyant device to treat it after we gained inspiration from buoyant toys in swimming pools," said Pang, "It's like treating someone with leg injuries. Wheelchair first, then crutch, and finally he or she can walk again."
The dolphin's physiological indices have returned to normal after two-month treatment.
"We all hope it could return to sea as soon as possible," Pang said.