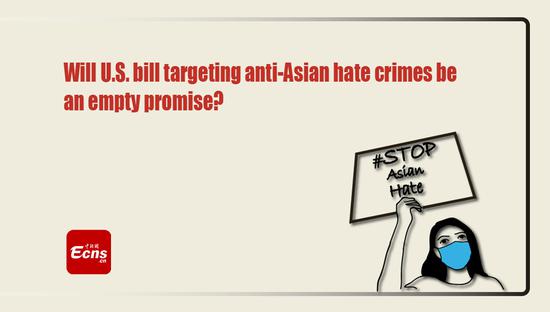 A bill targeting anti-Asian hate crimes is on the way. Will it be a cure or an empty promise? Only time will tell. (Picture by Yao Lan)
By John Lee
(ECNS) -- Yao Pan Ma, a 61-year-old Asian man in New York, was violently attacked and fell into a coma just one day after the U.S. Senate voted overwhelmingly to pass a bill combating surging hate crimes against Asian-Americans.
The case has many worried that the bill targeting anti-Asian hate crimes might be an empty promise.
For Asian Americans, a single bill is far from enough to bring a full stop to the fight against racism -- a lesson learned from African-American George Floyd's death. Although the Civil Rights Movement pushed the U.S. government to establish laws to secure equality for African Americans in the 1960s, Floyd's death sparked weeks of protest decades later, uncovering the painful truth that racial problems are still rooted deeply in the U.S.
Now, the bill targeting anti-Asian hate crimes is on the way. Will it be a cure or an empty promise? Only time will tell.