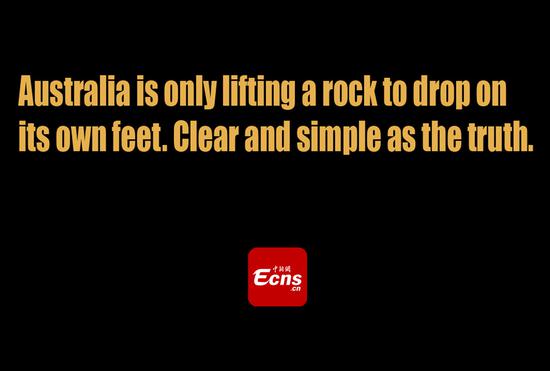 Picture by Yao Lan
By John Lee
(ECNS)--The BRI agreements signed by the Victoria State of Australia and China aiming to bring benefits to both sides was torn up on Wednesday.
The Australian government has used its power tool to scrap the agreements, showing no respect for the spirit of contract and seriously harming bilateral ties and mutual trust.
Noting that the political manipulation and irrational behavior by Australia is completely contrary to the spirit of the China-Australia comprehensive strategic partnership, Chinese FM spokesperson said it is "turning back the wheel of history and is vicious in nature."
It is only lifting a rock to drop on its own feet, as the Chinese saying goes. Clear and simple as the truth.
Andrei Agapi, Asia-Pacific associate pricing director for agriculture at S&P Global Platts told media last year that "China does not strictly need the wheat and barley ... from Australia. It's more Australia that needs the Chinese market."
Analysts have estimated that Chinese consumers' confidence in Australian products would significantly drop if Australia continues to sabotage bilateral relations, which would cost Australia much, including an opportunity to quickly recover from the pandemic.