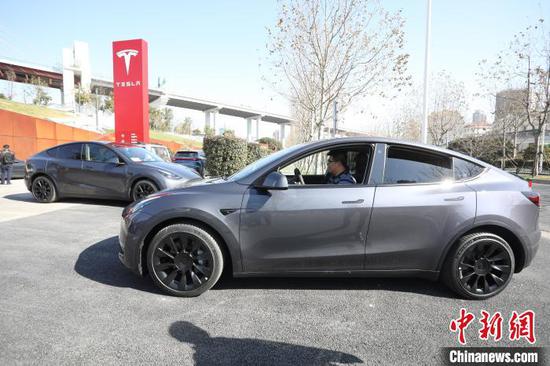 Cars stop at a Tesla shop in Shanghai. (File photo/China News Service)
(ECNS) -- Tesla is likely to acquire new land rights in Shanghai's Lingang New Area to further expand its Shanghai Gigafactory, according to land management information released by the government.
A land transfer announcement for new-energy vehicle manufacturing was posted on the official website of the Shanghai land market on Monday.
According to the information, the site is close to Tesla's Shanghai Gigafactory, and will most likely be used for re-expansion of its facility.
Located in Lingang Heavy Equipment Industrial Zone of Shanghai, the land covers a total 461,142.40 square meters, with an investment intensity of no less than 14,925 yuan per square meter, the announcement showed.
In 2020, Tesla delivered a total 499,500 vehicles worldwide, according to the company's Q4 vehicle production and deliveries report for the year. The popular Model 3 and Model Y have been in short supply ever since they started manufacture in China.
In response to strong market demand, it is imperative for Tesla Shanghai Gigafactory to increase investment and expand its production capacity.
Tesla's Model 3 sales reached 23,804 vehicles last December and 137,459 for the whole year, topping the list of new-energy vehicles in China in 2020, data from China Passenger Car Association (CPCA) revealed. Vehicle orders at Tesla's Shanghai stores this year are filled up until June and July.
Recently, the National Comprehensive Three-dimensional Transport Network Plan Outline issued by the Chinese government proposed to promote the application of intelligent networked vehicles and intelligent general aircraft, which may further stimulate the development of the new-energy vehicle market.
According to the prediction of professional research institutions, the growth rate for new-energy vehicles this year will be as high as 51 percent, which is an important opportunity for Tesla to further enhance its production capacity.