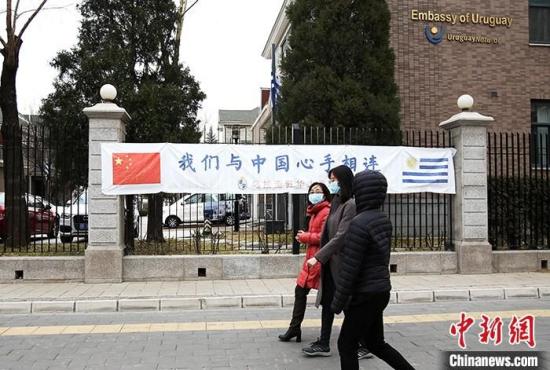 This photo taken on March 2, 2020 shows a banner reading "We stay with China" outside the building of Embassy of Uruguay in China. (Photo: China News Service/Bian Zhengfeng)
Special: Battle Against Novel Coronavirus
(ECNS) -- Beijing is taking a host of measures to contain the spread of the novel coronavirus among expatriates, public health authorities say.
The city had reported 14 imported cases of COVID-19 by Tuesday morning.
"Public health security is a common challenge faced by all mankind. It requires joint efforts of all countries. No one should stay aloof," said Xu Jianhe, head of the Information Office of the Beijing Municipal People's Government, at a press conference on Monday.
As a center of international communication, Beijing should explore international practices while strengthening epidemic prevention and control, Xu said.
"After the outbreak of the novel coronavirus, the city issued 'An open letter to expatriates in Beijing' in eight foreign languages — English, French, Russian, German, Spanish, Japanese, Korean and Arabic — reminding them to pay attention to official information and strengthen protection," said Li Hui, deputy head of the Foreign Affairs Office of Beijing Municipal People's Government.
The office's website contains the latest information and news about epidemic prevention and control, Li added.
Expatriates in Beijing will be included in the community health management system. They are suggested to seek timely medical advice if they develop suspected symptoms.
Beijing has printed 10,000 posters about prevention and control of the coronavirus in both English and Chinese and put them up in communities, apartments and office buildings where foreigners live.
The city also provides eight foreign-language services through citizen hotline 12345, emergency hotline 120 and the Capital International Airport hotline.
As of Monday, a total of 429 infections had been reported in Beijing. No new confirmed cases have been reported in 12 of the 16 districts in the city for more than 14 consecutive days.
Nearly 110,000 confirmed cases of COVID-19 have been reported worldwide.