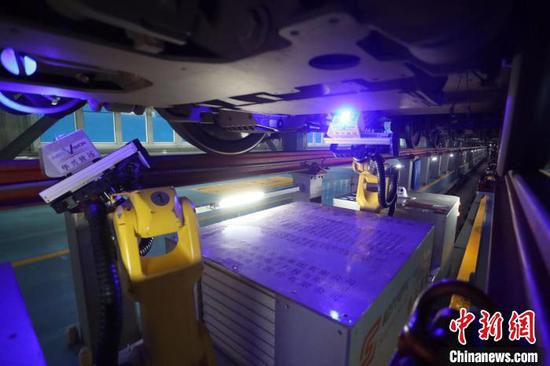 This undated photo shows a robotic system is working under a bullet train. (Photo/China News Service)
(ECNS) —A robot "doctor" is being used for the first time to maintenance bullet trains at the service sector of the Shanghai Hongqiao Railway Station as traditional Chinese New Year approaches.
This intelligent detection system was officially put into use at Hongqiao Station in May 2019 after more than four years of research, development, trial and evaluation.
It is composed of a dynamic inspection device, a robotic system and an information management platform, said Han Yu, vice director of the Shanghai Hongqiao Railway Station's service sector.
The robotic system uses advanced technologies such as dual 3D image recognition and deep learning to detect faults in bullet train components, Han said.
Machinists can use tablet computers to check faults in bullet trains through high definition photos taken by the robot system.
The man-machine alternation mode can basically cover any fault found by artificial maintenance.
The service sector of the Shanghai Hongqiao Railway Station has one set of dynamic detection devices outside the garage and four sets of robot detection systems inside to help the Spring Festival travel rush in 2020.