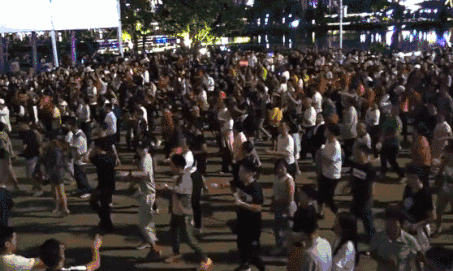 Poeple dance to music from 8 p.m. to 9 p.m. at a public space regularly in Guiyang City, Guizhou Province. (Photo/Video screenshot)
(ECNS) -- More than 1,200 dancers regularly gather in a square from 8 to 9 p.m. in Guiyang City, Guizhou Province, with organizers hoping for a new Guinness World Record in 2020.
The low stress and social square dance has taken China by storm, proving popular among the nation's elderly. However, 60 percent of those gathering in the Guiyang square are in fact young.
The community is housed in 259 high-rises covering a total area of 18.3 million square meters, planned as the eventual home to 350,000 residents. On the microblogging site Sina Weibo it has boasted to be "the largest residential areas in Asia," a claim quickly disputed by the enormous communities in Beijing.
Xiong Jun, local deputy Party chief, said the community has attracted many cyber celebrities to dance and make recordings here because young people are also fond of the dance style that provides both exercise and fun.
A man from Southwest China's Sichuan Province said he lost 8 kilograms after participating in the square dance over two months.
Recent graduate Liu Chen'ao, 21, learnt his moves at university and is against the idea of age limits.
Zhou Hongli, one of the organizers, said the record weight loss by a participant was 23.5 kilograms in about eight months.
He added the community needs to attract more than 3,000 dancers to apply for recognition by Guinness World Records.
The General Administration of Sport of China released regulations and rules on square dancing in 2017, encouraging more people to do exercise without disturbing their neighbors.