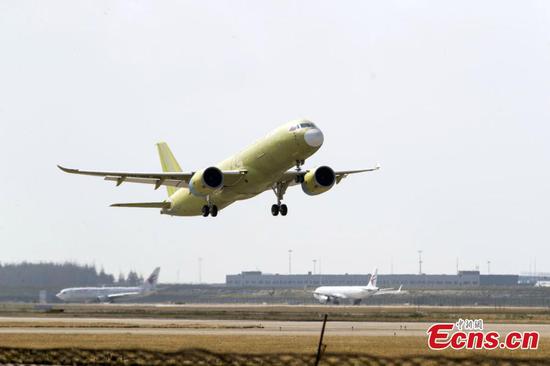 Photo shows a fifth prototype of China's large passenger jet C919 taking off from a runway at Shanghai Pudong International Airport, Oct. 24, 2019. (Photo/China News Service)
Special: 70th birthday of PRChina
(ECNS) - The fifth prototype of China's home developed large passenger C919 jetliner completed its maiden flight in Shanghai on Thursday.
The plane took off from Pudong International Airport in Shanghai at 10 am and underwent various inspections and system checks during the flight lasting one hour and 37 minutes.
The newest prototype mainly experienced testing under extreme weather conditions.
The previous four prototypes took off from bases in Yanliang, Dongying, Nanchang and Shanghai to test characteristics such as power systems and avionics.
The flight tests are a key verification phase for an aircraft to validate its design and performance, especially its safety.