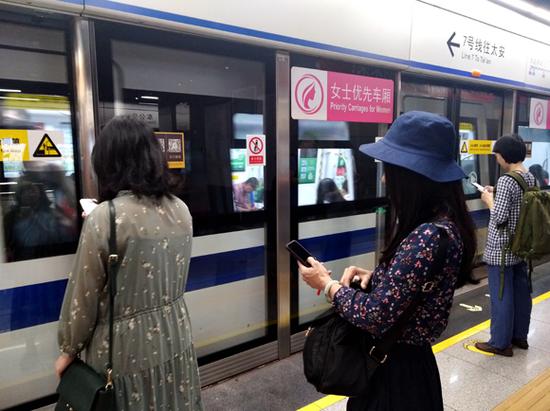 Shenzhen subway gives priority to female passengers on some trains. (File photo/China News Service)
Special: 70th birthday of PRChina
(ECNS) -- Shenzhen has released a draft regulation to improve civilized behavior including a plan to give priority to some passengers on the metro system during rush hour.
The draft regulation published on the website of the standing committee of Shenzhen People's Congress, the local legislature, is soliciting public opinion before Sept. 23.
One provision of the proposed regulation states metro trains can designate priority cars to be used first by disabled persons, minors, women and those with special needs when the subway system is crowded.
It also states that buses will need to have priority seats reserved for elderly people, pregnant women and the disabled. Metro or bus workers have the responsibility to ensure the seats are used by qualified passengers.
Shenzhen Metro has been trying new services, with some metro trains offering women-only cars beginning in June 2017.