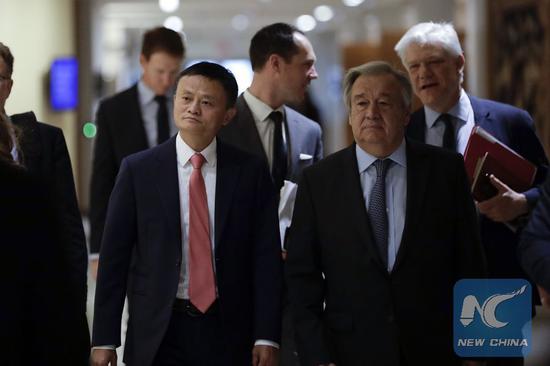 Jack Ma, executive chairman of Alibaba group and United Nations Secretary-General Antonio Guterres arrive to attend a high-level panel on digital cooperation, at the UN headquarters in New York, June 10, 2019. (Xinhua/Li Muzi)
(ECNS) -- Jack Ma, executive chairman of Chinese conglomerate Alibaba Group, said the biggest risk nowadays is missing the grand opportunity ushered in by the digital era.
Ma, also co-chair of the UN High Level Panel on Digital Cooperation, made the remarks as the panel released a new report called "Age of Digital Interdependence" on Monday.
Digital revolution is different from other technological advances in history because it is more inclusive, said Ma
Today, it is possible to use a mobile phone to do business and serve customers around the world. It is also possible to get a small loan in a matter of seconds, he added.
Ma said fear should not stop people from maximizing the opportunities that a digital revolution brings, so "we have to be very cautious in formulating policies and regulations."
He made a comparison, saying that an adult should not wear their childhood shoes because they limit growth and potential, so do policies and regulations which must be products of the smart digital era.
The report said opportunities for human progress in the digital age ultimately outweigh the challenges if people join together in a spirit of cooperation and inclusiveness. It paints a picture of the interconnected nature of digital technology and policy impacts, and makes five recommendations for shaping the digital future amid efforts to help achieve the UN's 2030 Agenda for Sustainable Development.