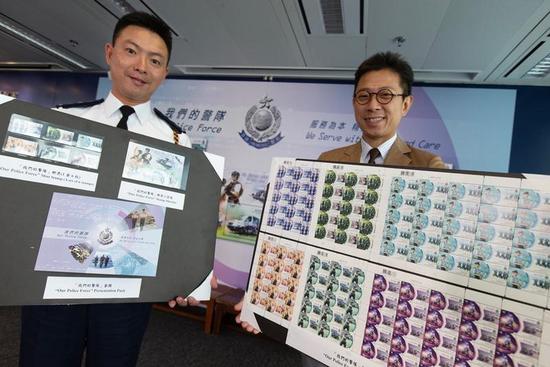 Hong Kong Post's Senior Manager (Philatelic Marketing) Nelvin Lee (R) and Chief Drill and Musketry Inspector Lo Yee-chung pose with "Our Police Force" special stamps at a press conference at the Hong Kong Police Headquarters, Hong Kong on April 29, 2019. (Photo/China Daily)
(ECNS) -- Hong Kong Post issued a set of six special stamps on Monday to mark the 175th anniversary of the founding of the Hong Kong Police Force.
The "Our Police Force" special stamps, which hit the market on Tuesday, aim to showcase the dynamics of police work in the metropolis and help the public learn more about this outstandingly disciplined service.
The stamps, which have monetary values ranging from $2 to $5, highlight some of the different roles undertaken by the police, including boundary security, crime investigation and detection, police training, international collaboration, and traffic management, as well as the force's commitment to cultural diversity and equal opportunity.
Nelvin Lee Chun-yu, senior manager of Hong Kong Post, said the Hong Kong Police Force had taken on the mantle of maintaining law and order since its inception in 1844 and the stamps were particularly meaningful.
The Hong Kong Police Force will organize a series of activities under the theme "Serve and Protect Hong Kong 175 Years" in celebration of the milestone anniversary.
Also on Monday, the police force released a special publication with more than 300 photos to highlight the broad range of tasks it performed.