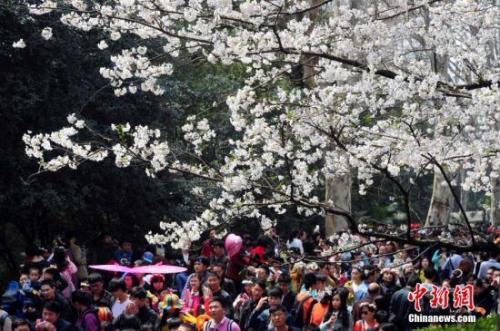 Cherry blossoms on the campus of Wuhan University attract crowds of visitors. (File photo/China News Service)
(ECNS) - Wuhan University defended its treatment of two visitors who were reportedly attacked by guards while attempting to view cherry blossom trees on the campus.
In a statement on its official Sina Weibo account, the university said one of the visitors was there without making a required reservation and they also hurled insults at a female security officer on campus before the conflict.
According to the university, footage from a camera showed one of the visitors, surnamed Zhang, making aggressive moves towards a female guard, who was checking the pair's reservations, forcing her to call for assistance. Three male security personnel arrived and warned the visitors to comply with the university's visitor rules, but the conflict escalated, with arguing and eventually fighting.
There are approximately 1,000 cherry blossom trees at Wuhan University, a number of which were gifts from the Japanese government to mark the friendship between China and Japan. When the trees are in full bloom from late March to early April, many local residents and tourists come to enjoy the scene.
The university said they welcome visitors to view the trees in an orderly way. In addition, two security personnel involved in the fight had been reprimanded, it said.
A previous report showed one of the men at the university in a costume resembling a traditional Japanese kimono. The university's statement made no mention of the outfit.