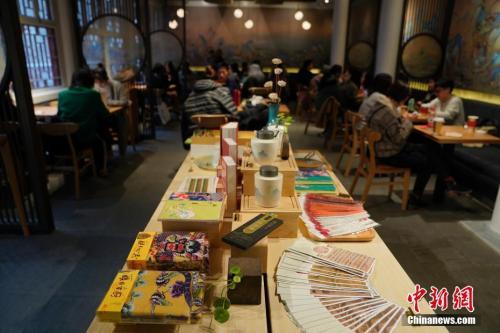 People dine at the café outside Palace Museum after it opens an emperor-themed hotpot eatery named Corner Tower Restaurant on Feb 5, 2019. (File photo/China News Service)
(ECNS) -- The Palace Museum, also known as the Forbidden City, has crossed off a hugely popular hotpot dish from the royal life-themed menu after stirring up heated discussion.
The Corner Tower Restaurant opened on Feb. 5, the first day of the Lunar New Year. It features a menu in the form of an imperial edict, wall paintings, witty words related to royal life and choices like Empress Dowager Cixi's favorite chrysanthemum hotpot. The restaurant has proven so popular that it is fully booked in March, according to media reports last month.
Located in the eastern alley outside Shenwu Gate, the café has sparked debate on its high prices, with the average cost at 200 yuan ($30) per person.
Some Internet users also complained about long queues while others accused the Palace Museum of over-commercialization.
Shan Jixiang, curator of the museum, said hotpot is only served in winter and uses an electromagnetic stove, not charcoal, so there's limited danger of fire.
Shan added the museum has made consistent efforts to avoid commercialization, such as closing 14 business outlets inside the massive complex.
The restaurant no longer offers hotpot since March 4.