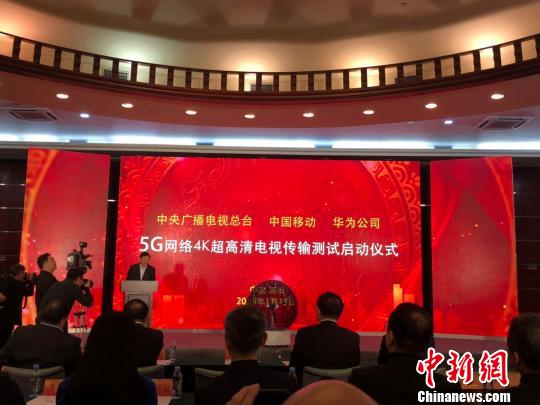 A test for the broadcast using a 5G network is conducted at the launching ceremony in Shenzhen, Guangdong Province, Jan. 13, 2019. (Photo/China News Service)
(ECNS) - The Spring Festival Gala, a Chinese New Year special produced by China Central Television, will be broadcast live in 4K high-definition through the 5G network after a successful test in Shenzhen.
In addition to the main studio in Beijing, the 36th edition of the lunar New Year gala will have a separate studio in Shenzhen, a hub of Chinese technology companies.
China Media Group, China Mobile, and Huawei conducted a successful test Sunday evening for the broadcast using a 5G network slice established by China Mobile, making sure the programs performed in Shenzhen and Beijing could be transmitted between the two sites in high definition.
Shen Haixiong, president of China Media Group and Wang Weizhong, deputy Party chief of Guangdong Province, were among the participants to launch the test in Shenzhen.
4K UHD images are smoother, more lifelike and appear more natural, delivering an in-person immersive experience to audiences. Such video transmission requires high bandwidth and low latency. Huawei and China Mobile cooperated to launch similar projects last year.
China Media Group announced last December that it will set up the country's first 5G-based new media platform with support from China's three telecom giants – China Telecom, China Unicom and China Mobile – and Huawei Technology.
Shen Haixiong, president of China Media Group, said the group is going to roll out a "4K+5G+AI" strategy by taking advantage of big data and Artificial Intelligence.