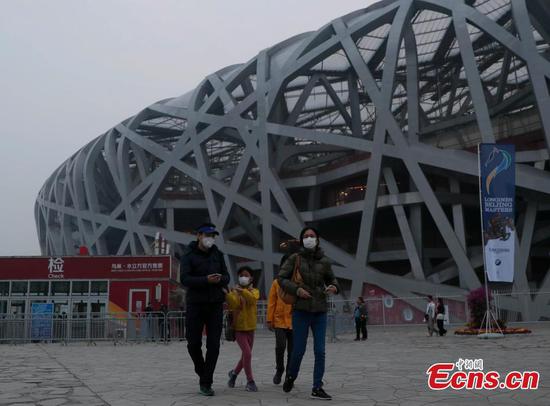 Tourists visit the area around National Stadium, also known as the Bird's Nest, on a smoggy day in Beijing, Oct. 14, 2018. (Photo: China News Service/Liu Guanguan)
(ECNS) - Beijing's environmental authorities have vowed to increase controls on diesel-powered trucks, which are considered to be a major air polluter.
Recent studies have shown that automobile emissions are a major source of air pollution in the capital city, and diesel trucks are one of the worst culprits.
The Beijing Municipal Environmental Protection Bureau said heavy-duty diesel vehicles are a major problem to be addressed in the fight against air pollution.
Environmental authorities will strengthen law enforcement and work closely with police to impose penalties during inspections on roads leading into Beijing, as well as at core intersections inside the city, while increasing checks at night.
Diesel vehicles that are registered in other places and have exceeded emission standards will be added to a blacklist database, and they will not be allowed to enter Beijing until they meet requirements, the bureau said.