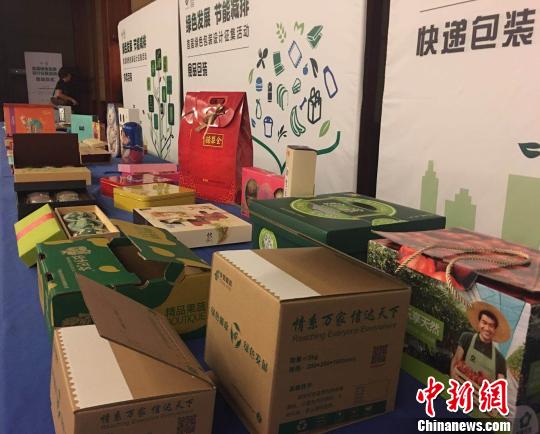 Packages are displayed at a green packaging design event in Beijing. (Photo: China News Service/ Du Yan)
(ECNS) -- A nationwide search for green packaging was launched by Beijing's top economic planner on Thursday amid efforts to reduce excessive waste from one-use containers.
An official with the Beijing Municipal Development and Reform Commission said a boom in express deliveries and take-away food services mean that excessive product packaging is still a headache, despite measures to reduce and recycle waste.
Data from the Beijing Municipal Postal Administration showed that the city reported 2.275 billion express delivery items in 2017, an increase of 16.03 percent year-on-year. It has brought with it a large number of packaging boxes, courier bags and various buffering fillers.
Approximately 1 million plastic bags and 2 million lunch boxes were used for 2 million take-away food orders every day in Beijing in the first half of the year, according to online food delivery giant Meituan. Most of these packaging materials could not be recycled, and increased pressure on waste treatment facilities.
The commission will support industry associations to organize packaging design competitions specially for express delivery and take-away food.
Individuals or groups can submit their designs in one month, which need to be environmentally friendly, innovative and practical. The aim is to promote the reduction, reuse and recycling of packaging materials, and the commission will help promote the application of successful new designs.