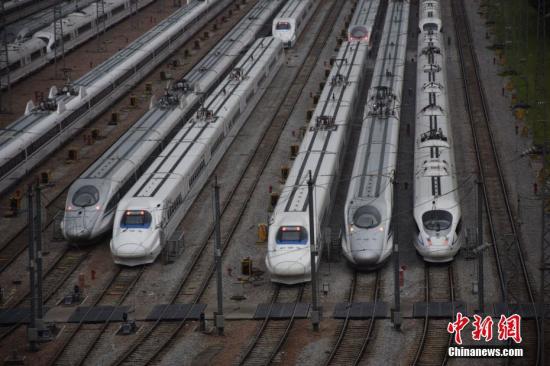 High-speed trains in Guangdong suspend services before Typhoon Mangkhut hits the province, Sept. 16, 2018. (Photo/China News Service)
(ECNS) -- As the impact of Super Typhoon Mangkhut weakens, Guangdong and Hainan provinces are set to resume high-speed train services and some regular rail services on Monday.
High-speed trains returning to service in Guangdong include those to Beijing, Shenzhen, Hong Kong, Hangzhou and Guizhou. Hainan will resume its island-looping bullet train line.
High-speed and regular railway services in the western region of Guangdong, including the Guangzhou-Foshan-Zhaoqing inter-city rails and the Xinyi intercity railways, will remain suspended.
Passengers who have already purchased train tickets can receive refunds within 30 days of the date of travel, free of any fees.
Super Typhoon Mangkhut landed Sunday at 5 p.m. on the coast of Jiangmen City, Guangdong, packing winds of up to 162 km per hour, according to the provincial meteorological station.
Four deaths were reported in Guangdong. More than 2.52 million people have been relocated, and more than 48,000 fishing boats called back to port in the province as of 6 p.m. on Sunday.