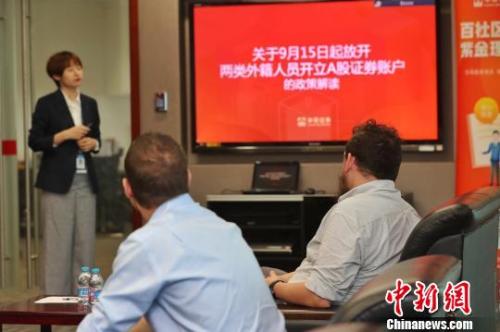 Two foreigners ask a securities broker about opening an A-shares account. (Photo/China News Service)
(ECNS) - Foreigners living in China can, for the first time, directly trade domestic shares starting today, but in the short term their influence on the market could be limited, according to analysts.
China's securities regulator announced last month that it would allow foreign nationals working in China to open A-share securities accounts. It would grant the same permission to qualified foreigners working overseas for Chinese firms listed on mainland exchanges.
The updated regulation, which took effect on Sept. 15, involves hundreds of thousands of foreigners from 62 countries and regions who signed a regulation mechanism agreement with the China Securities Regulatory Commission and are also working in China.
A Shanghai brokerage office of Huatai Securities said some foreigners had visited the office to inquire about opening an account.
Analysts said the new move could attract more foreign capital and optimize the structure of the capital market.
Liu Feng, a chief economist at China Galaxy Securities, said allowing foreigners into A-shares was part of China's further opening up and a long-term strategy. However, the number of foreign investors who met China's qualifications was still relatively small, and the move would not solve the problems existing in A-shares over a short period of time.
Liu also pointed out that the new investors could make the A-share market more international and, in theory, make valuations of domestic listed companies more objective.
Ma Tao, a chief strategist at Bank of Communications Schroder Fund Management, said the new regulations would help promote foreign professionals working or starting businesses in China, and could also address the problem of equity incentives and employee nationality.