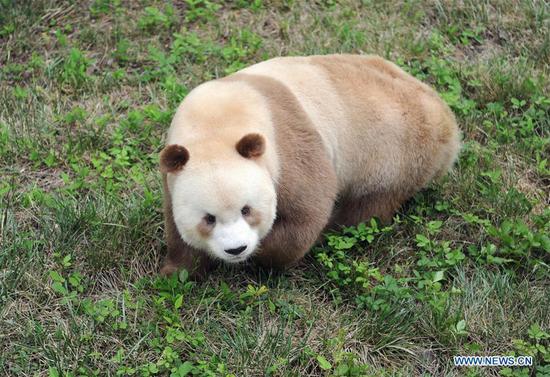 Qizai, a rare brown giant panda, is seen at the rescuing and raising research center in Xi'an, northwest China's Shaanxi Province, Sept. 7, 2018. (Photo/Xinhua)
(ECNS) -- Qizai, a nine-year-old giant panda of the rare Qinling subspecies, is set to be a dad soon.
The subspecies, named after the Qinling Mountains, differs from the more familiar black and white panda. The Qinling has a smaller skull and is smaller in size overall, while its fur is dark brown and light brown in color.
Ma Qingyi, director of the veterinary hospital at the Shaanxi Giant Panda Breeding Center, said no conclusions had been drawn over the Qinling panda's coloration, although suggestions ranged from it potentially being a consequence of inbreeding to albinism.
Qizai, the world's only Qinling panda in captivity, is said to enjoy a privileged "noble life" at the breeding center.
Qizai recently mated with an adult panda and it was expected he would become a dad if everything went well, Ma said.
Keeper Li Zhichao said the panda weighed 120 kilograms and was generally gentle although sometimes lazy.
Named after a character in the Chinese comic science fiction film CJ7, Qizai was found on Nov. 1, 2009 in Sanguanmiao in the Qinling Mountains, apparently abandoned by his mother. At the time, the cub was about one to two months old, had barely opened his eyes, and couldn't move. He was also dehydrated and had an intestinal blockage.