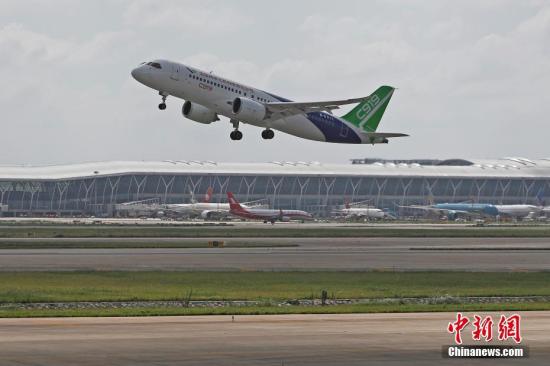 A C919 passenger plane takes off from the Shanghai Pudong International Airport. (File photo/China News Service)
(ECNS) - China will need 7,690 new planes worth $1.2 trillion over the next two decades, according to a report by Boeing.
The Chicago-based plane maker said the fresh estimate was 6.2 percent higher than its projections a year ago. It also said that China was poised to become one of the world's biggest aviation markets.
Chinese airlines account for 14 percent of global traffic and in 20 years they will account for nearly 20 percent. Increasing urbanization will be key to air travel growth going forward.
Boeing's new Commercial Market Outlook for China also said that China's expanding fleet will require $1.5 trillion-worth of services.
Randy Tinseth, Boeing's vice president of marketing, said the continuous growth of China's economy and middle class sustained the country's upward civil aviation market.
China's growing middle class has more than tripled in the last 10 years and was expected to double again in the next 10, he said.
"Alongside the economic empowerment of China's middle class and the advancing technology making airplanes more capable and efficient, we are confident in the future of its commercial aviation," Tinseth said in a statement.
Boeing also said China would need 5,730 single-aisle planes, accounting for 75 percent of total new deliveries, and 1,620 widebody aircraft, or triple the size of the country's current fleet.
China also has the world's most rapid growth of e-commerce, so the need for cargo planes is expected to accelerate, with 200 new aircraft and 470 renovated ones.