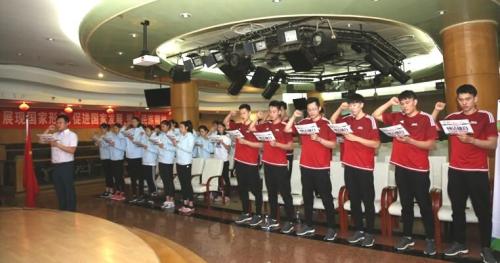 Chinese athletes of the 18th Asian Games make a pledge. (Photo provided to China News Service)
(ECNS) - All 1,579 Chinese athletes and their assistants in the upcoming 18th Asian Games have completed an online anti-doping test, with 15 percent achieving full scores.
The 18th Asian Games are scheduled to be held in the Indonesian capital of Jakarta and in Palembang city, the provincial capital of South Sumatra Province, from Aug. 18 to Sept. 2.
China's anti-doping center prepared the study materials for the Asian Games in accordance with standards set by the Olympic Council of Asia, sharing them with athletes and team managers through the social media app WeChat in an awareness campaign.
The 1,579 participants who will be involved in 40 sporting events during the continental meeting held every four years all passed the test on an anti-doping education platform.
For the first time in Asian Games history, eSports will be contested as a demonstration event. Thirteen Chinese eSport athletes also passed the online test.
By July 23, about 1,600 participants from 42 sports teams also attended 59 lectures held in Beijing, Shanghai, Yunnan and other provinces based on the Asian Games.
Chinese canoeing teams, now training in Belarus, also passed the tests.
The anti-doping center will conduct research and inspection on sports teams to ensure all Chinese athletes are aware of the anti-doping initiative. Based on the analysis of online test results, it will also provide risk warnings and recommendations to the Chinese delegation as well as a manual for athletes to carry with them.