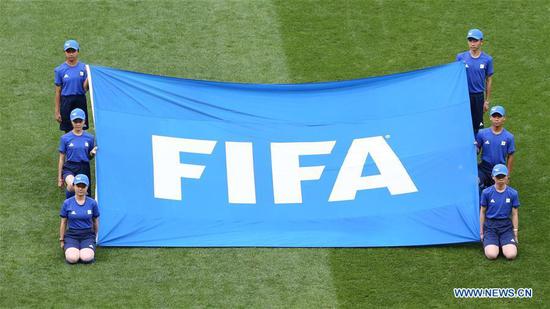 Chinese caddies hold a FIFA flag before the opening match of the 2018 FIFA World Cup in Moscow, Russia, on June 14, 2018. (Xinhua/Cao Can)
(ECNS) - Six children from Danzhai, a poverty-stricken county in Southwest China's Guizhou Province, were FIFA flag bearers at the World Cup opening ceremony Thursday night at Luzhniki Stadium in Moscow, Russia.
All the six children are from Danzhai, where Chinese real estate conglomerate Dalian Wanda Group has helped build schools and lift families out of poverty. Wanda became the first Chinese top-level sponsor of FIFA in March 2016, with a 15-year sponsorship deal.
The FIFA World Cup Flag Bearer Program is one of the exclusive rights granted to Wanda by FIFA. Wanda has recruited 384 kids from the ages of 12 to 17 worldwide to act as FIFA Flag Bearers at every FIFA World Cup match.
It is the first time in World Cup history for Chinese flag bearers to have such a presence.
Wanda launched a poverty alleviation program in the county in 2014, providing all kinds of support to develop local economies and industries, and boost incomes.
Liu Mingsheng, a senior assistant to the Wanda president, said it's very meaningful to provide children from poor areas the opportunity to stand on the World Cup stage, and that Wanda is committed to helping them grow in confidence and broaden their vision.
Jiang Xiao, one of the six children, said it has been a life-long dream of his father to watch the World Cup at the stadium and he's happy to help realize that dream for him.
Another flag bearer, Yang Changsheng, said he wants people to know there are children like him in remote Danzhai who like football very much.