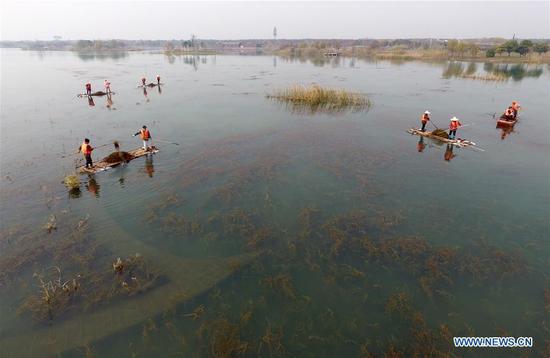 Sanitation staff work at the Gonghuwan wetland park in Wuxi, a city of Taihu Lake basin in east China's Jiangsu Province, Dec. 7, 2017. China rolled out a "river chief" system nationwide amid efforts to tackle water pollution. (Xinhua/Li He)
(ECNS)-- China's river chief system -- in which people are assigned to take charge of protecting waterways in their area -- has been dysfunctional in the administration of Dasha River, said the Ministry of Ecology and Environment.
"River chiefs" are tasked with resource protection, pollution prevention and control, as well as ecological restoration and they can be held accountable for environmental damage in bodies of water under their supervision.
River chiefs in Shijiazhuang and Dingzhou cities responsible for the environmental protection of Dasha River have failed to adequately perform their duties, leaving the river affected by household and industrial waste and polluted water, according to a statement made by the ministry on social media site Weibo.
A three-kilometer-long garbage belt, up to 10 meters wide in places, spreads along the Dingzhou section of the river, and is made up of a variety of stinking, solid waste.
In the river's Xinle section in Shijiazhuang, inspectors sent by the Environmental Protection Supervision Commission of the CPC Central Committee also found household and industrial waste in the watercourse.
Inspectors said Hebei's river chief system had not responded sufficiently to the pollution problems, which had greatly concerned local residents. Despite regulations, implementation was lax and the river chief system existed in name only, said the ministry.
Further investigations were ongoing, it said.