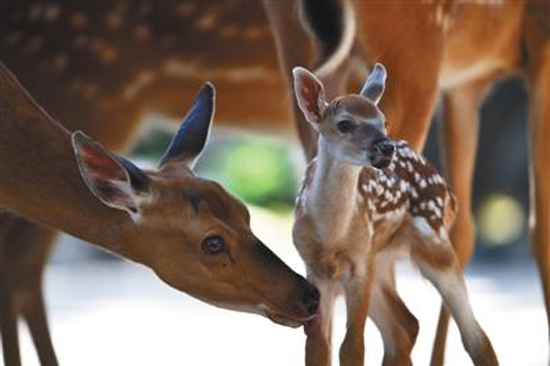 A sika deer born on June 2 at the Palace Museum in Beijing, meets the public. (Photo courtesy of the Palace Museum)
(ECNS) - The Garden of Compassion and Tranquility at Beijing's Palace Museum allowed a cute sika deer calf born on June 2 to meet the public on Monday.
Nine sika deer were introduced to the garden last September for a dynamic deer-themed exhibition, which also included displays of 69 selected cultural relics related to the auspicious animal.
The two male adults, five female adults and two calves come from the Mountain Resort in Chengde City of Hebei Province, a large complex of imperial palaces and gardens. The resort sent a manager and veterinarian to look after the animals during the exhibition.
The sika were supposed to return to the resort at the end of the exhibit in February. They were later allowed to stay longer, and to the pleasure of visitors, a new member has now joined the family.
Authorities of the Palace Museum have reminded visitors not to feed the deer over safety concerns. 
During the Qing Dynasty (1644-1911), the garden raised sika deer and built a watchtower. Among the new initiatives to attract visitors, the Palace Museum has displayed animals and plants in exhibits about royal family life. In 2016, more than 12,000 potted peonies were placed in the museum as part of a cultural relics display.