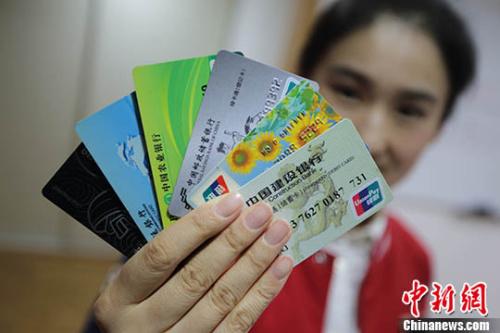 A woman shows her bank cards. (Photo/China News Service)
(ECNS) -- China UnionPay, the country's sole bank card network operator, lifted its QuickPass service, a way of payment without a signature or PIN, from previous maximum of 300 yuan ($47) per transaction to 1,000 yuan starting from June 1.
The small-sum service means UnionPay cardholders are able to quickly finish payment without the trouble of typing a PIN or signing at designated merchants when spending is under a set level. The service introduced in 2015 placed the amount at 300 yuan.
Bank of China and China Merchants Bank are among banks that have increased the amount from June 1. The Beijing branch of China Citic Bank also allowed its cardholders to enjoy the QuickPass service for 3,000 yuan on a single day at most.
According to the current policy, any cardholder with the QuickPass mark will automatically activate the signature or PIN-free service, which has raised concerns of safety or payment frauds.
Cardholders can choose to close the default function, but many of them said they had no knowledge that the service has changed.
Li Jiquan, a lawyer with Beijing Junbang Law Firm, said banks should better inform cardholders of the default function and explain the possible risks.
Xiong Dingzhong, secretary general of Internet law and policy research center at Tsinghua University, agreed that the QuickPass service makes payment easier but also increases risk to users, so banks need to make users aware of the implications in written contracts.
As a solution, Liu Junhai, director of the Business Law Center at Renmin University of China, suggested that banks should first seek approval from users by SMS text message in activating the QuickPass service.
China UnionPay said cardholders can get a limited amount of compensation for the card fraud that happened 72 hours before cardholders reported their lost cards. However, lawyers said the statement of "a limited amount" is too ambiguous.