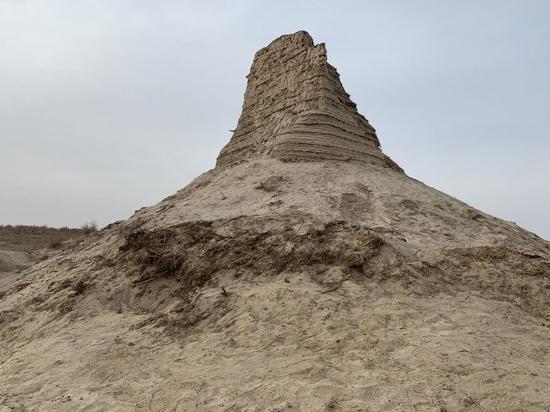 Photo taken on Nov. 28, 2019 shows a view of the Keyakekuduke Watchtower Site in Yuli County, northwest China's Xinjiang Uygur Autonomous Region. (Xinhua/Zhou Ye)
Remains of 44 beacon towers were discovered in Hami City, northwest China's Xinjiang Uygur Autonomous Region, during the 2020-2022 period, according to a press conference held on Sunday.
By the end of 2022, a total of 106 ancient beacon towers had been discovered in Hami City, according to official data.
The beacon towers, built during the Tang Dynasty (618-907) and Qing Dynasty (1644-1911), used to act as sophisticated defense facilities, archaeologists said.
"Soldiers stationed in the towers would have used flags, drums and torches to convey information such as the number of enemies and from which direction they were attacking," said Zhang Kun, a doctoral student at China's Northwest University.
The study shows that the beacon towers constructed during the Tang Dynasty were built with adobe and stone, while the towers built during the Qing Dynasty were built using mainly rammed loess.
The ancient beacon towers in Hami City are numerous and well-structured, and are situated in neat lines, Zhang said.